Location:
 Saint Petersburg, Russia
Client: 
HC SKA (SKA-Neva)
Intro:
 Zhdanovka Ice Palace (capacity: 2,000) was built in 1989 mainly as a training facility for the SKA sports society. A small cozy venue was always quite intensely used hosting practice sessions, matches and competitions. In 2014, SKA-Neva (the SKA system VHL team) chose the Palace to make it their permanent home ice.
Objective: 
To develop a new fresh look for the Zhdanovka Palace as part of the entire venue renovation.
We decided to build the concept around the saying "Even walls help at home" – to create such look that would remind the SKA-Neva players and staff that they are at home.
Playing at home means representing the city of Saint Petersburg. Hence, we naturally chose "The city of Saint Petersburg" as a primary branding theme and focused on its key symbol – the Neva River – that gave the name to the VHL team (SKA-Neva).
We depicted Neva on two main opposite walls – the world-famous drawn-up Palace Bridge with a giant ice goalie raising from the frozen waters to protect his home and the well-known Neva granite embankments. For another two walls of the VIP boxes level we created images with iconic city architecture.
Knowing the power of the club colors we chose to strengthen "at home" feel making them indispensable part of the look. Therefore, we applied blue, red and white onto interior elements (doors, entrances, hand-rails, etc.) and integrated colorful fan flags into branding.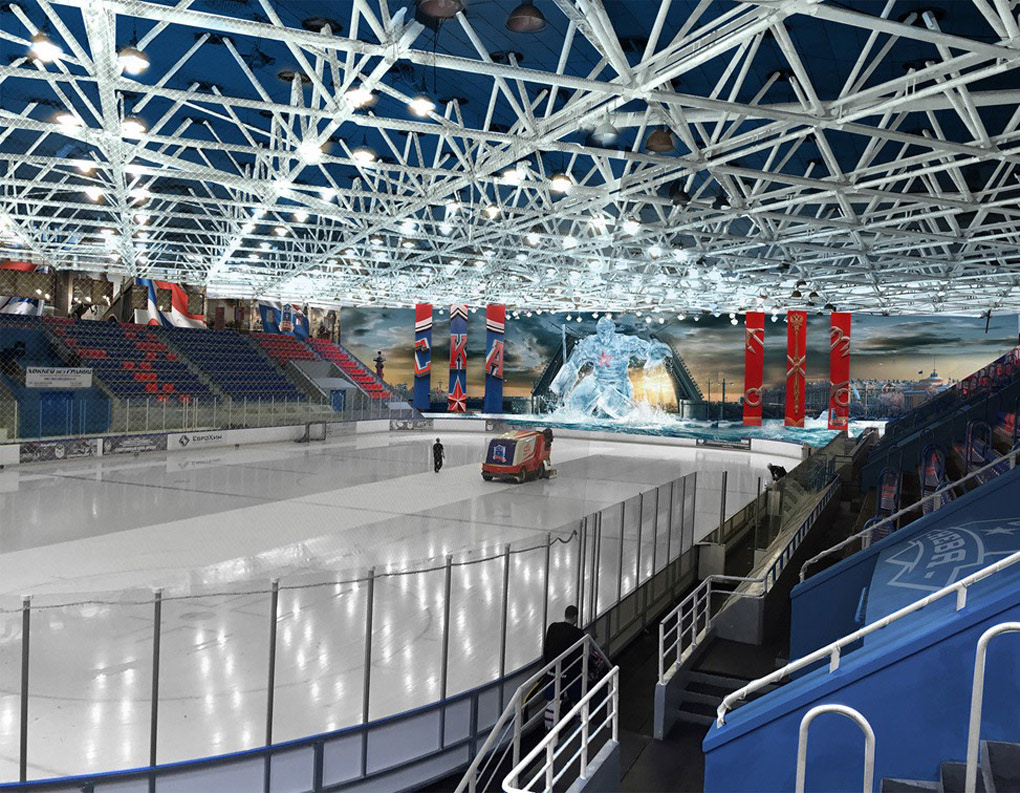 A number of star ice hockey players of SKA system learnt to play the game, performed or trained in the walls of Zhdanovka Palace. To inspire the young SKA-Neva players to excel like their peers of earlier generations of SKA we also introduced a supporting theme – "The Legends of SKA Saint Petersburg".
Using old photos, we draw the club legends in color – Nikolai Puchkov, Nikolai Drozdetsky Viacheslav Lavrov, Alexei Kasatonov and Nikolai Maslov. Further, we used their images in interior and exterior design, including the main long corridor, outside bow windows, and even two ice resurfacers.
To keep the single look and feel for the entire arena facelift branding we took Saint Petersburg monuments and the Neva River as a background and added images of fan flags that carried club colors.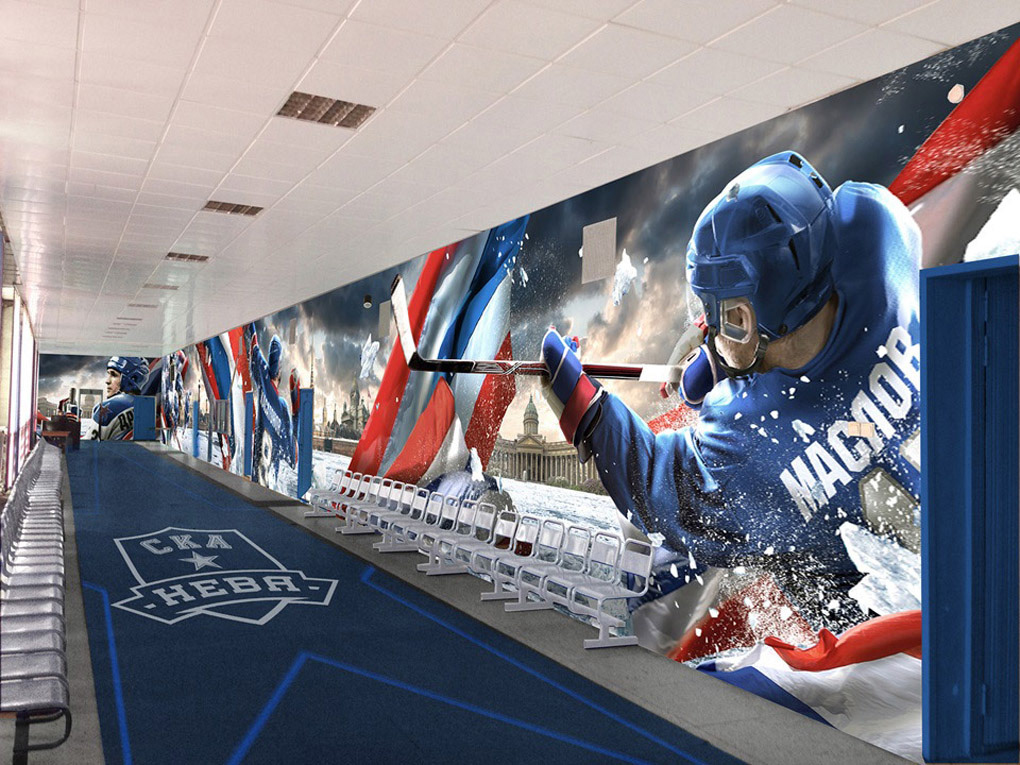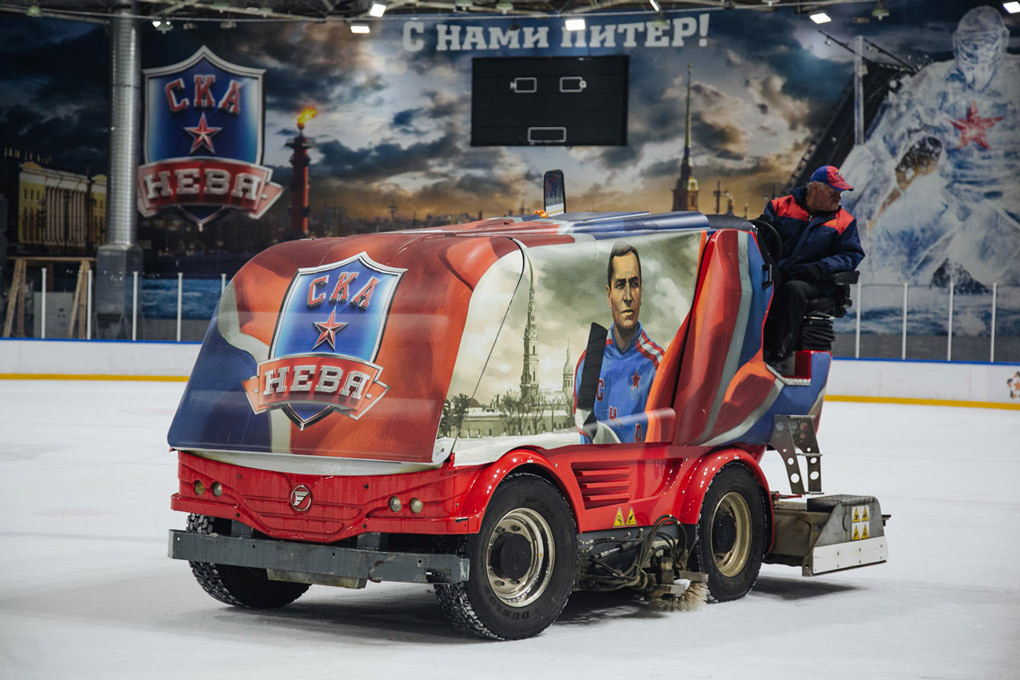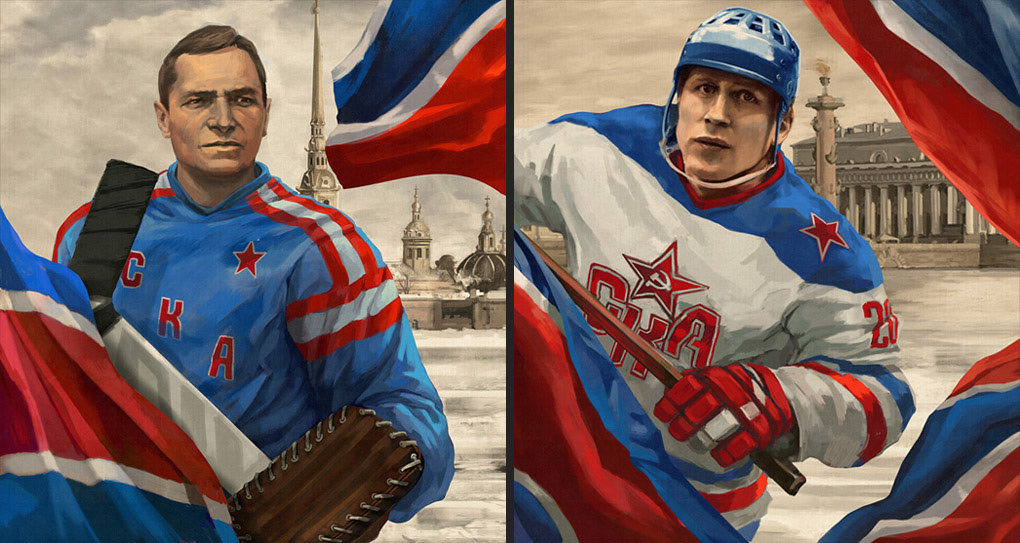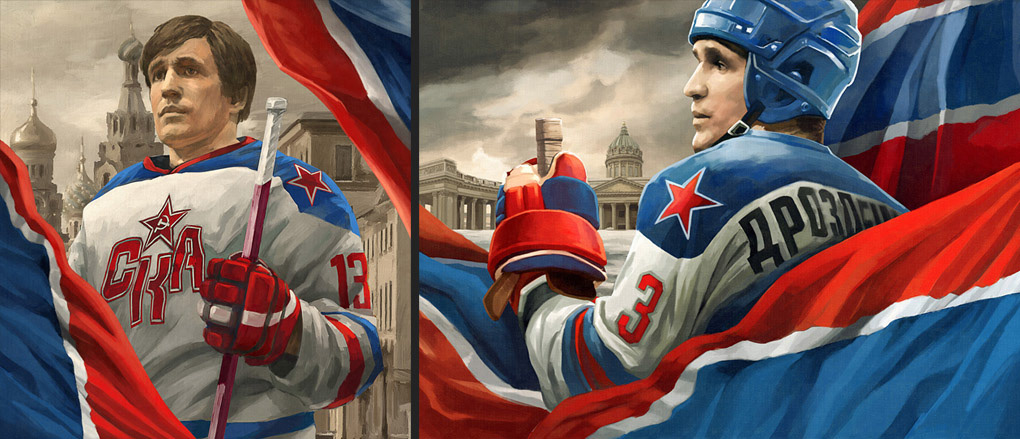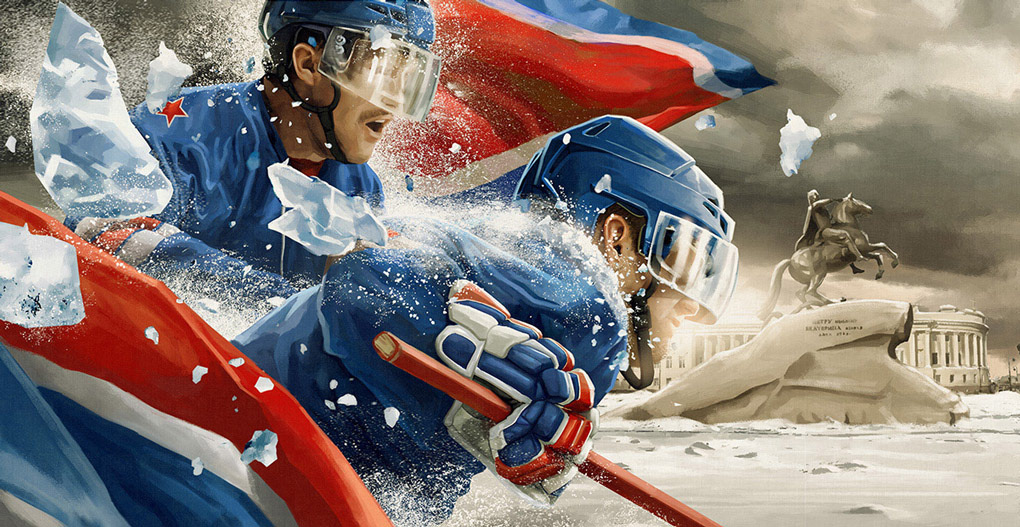 Renovation completely changed the venue atmosphere, restoring the pride of SKA Saint Petersburg in the eyes of everyone involved in the SKA system – from the youngest players to the old fans of the city ice hockey. As they say now, Zhdanovka Palace is living its second live.