Location:
 Saint Petersburg, Russia
Intro:
 The newly built Saint Petersburg Stadium (capacity: 56,196) hosted first official matches in 2017. Following FIFA Confederations Cup Russia 2017 the venue became the home ground for the local FC Zenit. All temporary tournament branding was removed leaving "empty" concrete surfaces.
Objective:
 To create a visual look for the 2017-18 season for the bowl and TV-relevant corridors leading to and from Zenit team changing room.
Since club colors are sacred for every football club, we opted for a scheme of dark blue, white and light blue as primary colors. We took solid dark blue as the main background color that would cover and "deepen" all unattractive concrete surfaces and make branding elements, sponsor logos or captions "pop up".
Zenit is by far the most popular football club in Saint Petersburg, which has a strong connection with the city. Moreover, the stadium is named after the city. Therefore, we dedicated branding theme to Saint Petersburg.
The bowl branding is mostly visible in the middle VIP box tier of the stadium. We created expressive graphics visually uniting perimeter thick lower and thin upper "stripes" and developed 2 patterns, imbedding famous Saint Petersburg sightseeing attractions. For Zenit is playing in Russian and UEFA tournaments, we used Cyrillic and Latin words, alternating each other on the circle.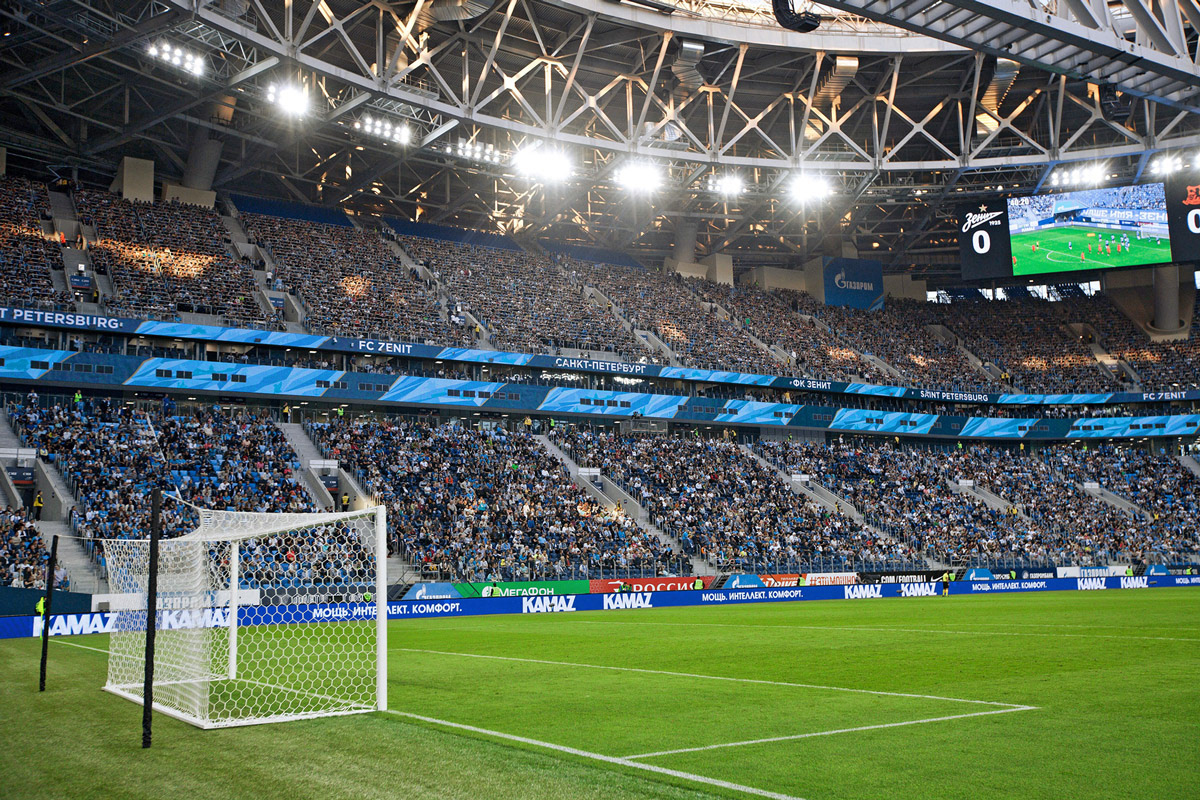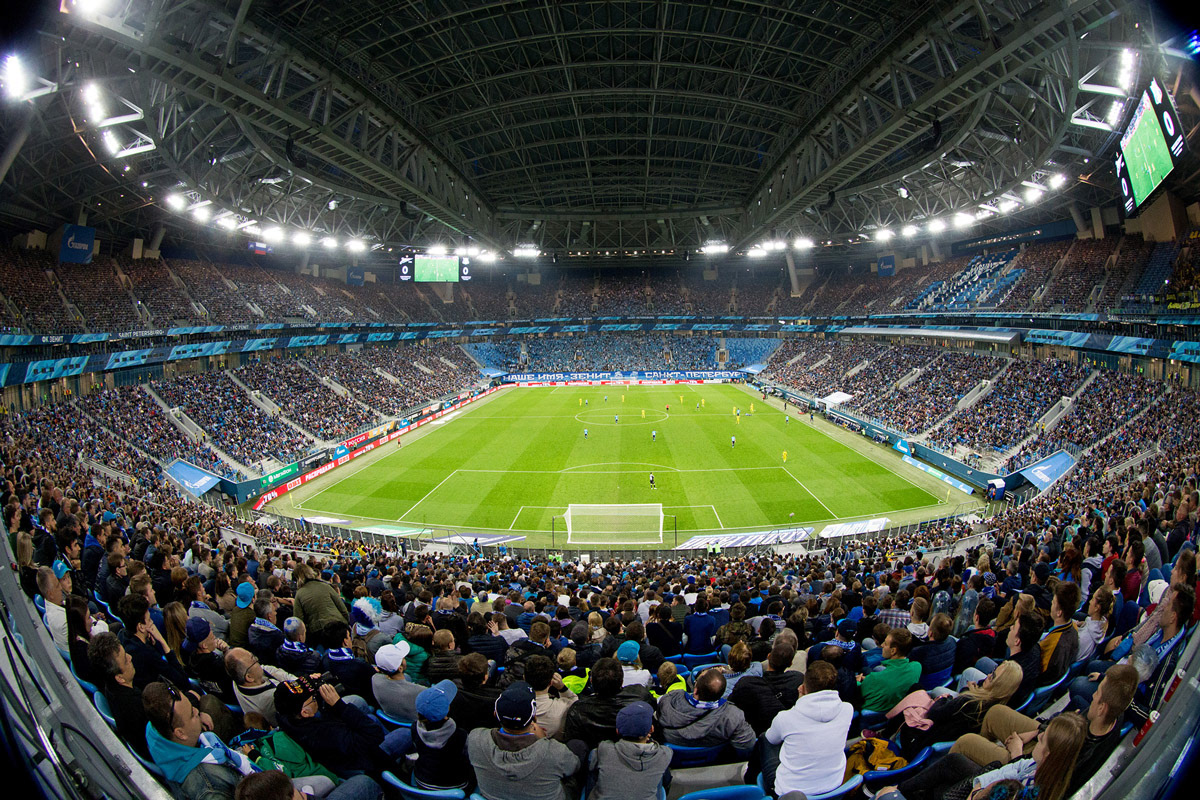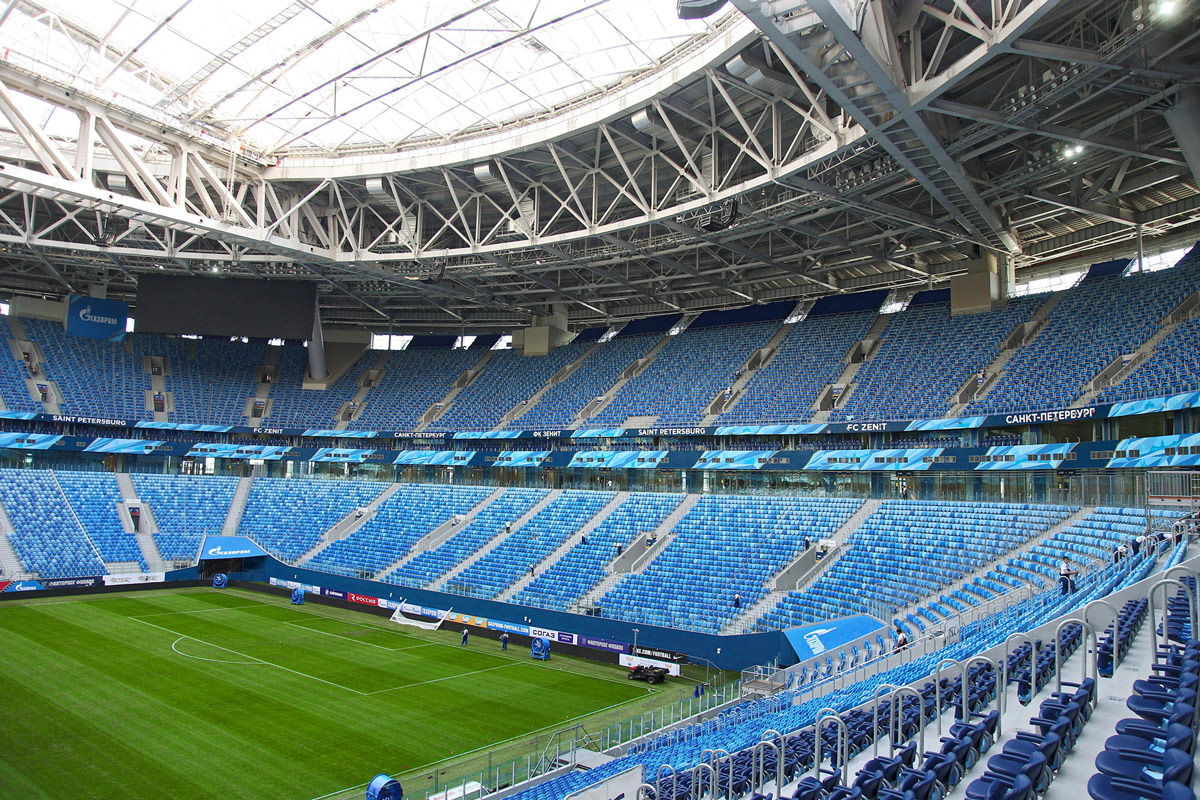 We brought the same theme of Saint Petersburg inside the corridors, halls and pre-match teams tunnel line-up space, but gave it a bit different twist. TV-cameras take close-ups in those areas and all the players and staff can see the walls quite close. Therefore, we decided to combine graphic design branding with more vivid retouched images and made several black-and-white "collages" consisting of symbolic monuments, palaces, bridges and other architectural masterpieces of Saint Petersburg. BW helped us "hide" various heaters, fire point stands, cables and doors.
Together with Zenit, we chose iconic lines from fan chants and the club anthem, and made them a part of branding, introducing large light blue volumetric letters – dominant on the BW background.
The theme strengthens "at home" feeling for Zenit, reminding the players what a beautiful city they represent on the pitch.