Client:
 Russian Ice Hockey Federation
Intro:
 Moscow hosted the Channel One Cup in the Ice Palace for the second consecutive time. The year 2016 marked the 70th anniversary of ice hockey in Russia. Hence, the seasonal communication was dedicated to the greatest moments and people of the past and the present of the Russian ice hockey.
Objective: 
To develop a creative concept and key visuals applicable for (1) event promo campaign and (2) event venue branding.
The most memorable moments in the history of ice hockey in our country date back to the times of the USSR, when the national team was dominating on all the international events. The players were national heroes. Everyone knew them then, and modern generation can still recognize their faces. This let us suggest the theme exploiting the style of Soviet posters or post stamps. We depicted the star players of the present next to the heroes of the past – all standing in line as if the glorious traditions were kept and continued.
Since there were no decent quality color photos of Soviet players, we chose to use a special technique "coating" the black-and-white photos with color brushes. This let us "level up" the quality of old and modern photos and achieve the single style result in two key images.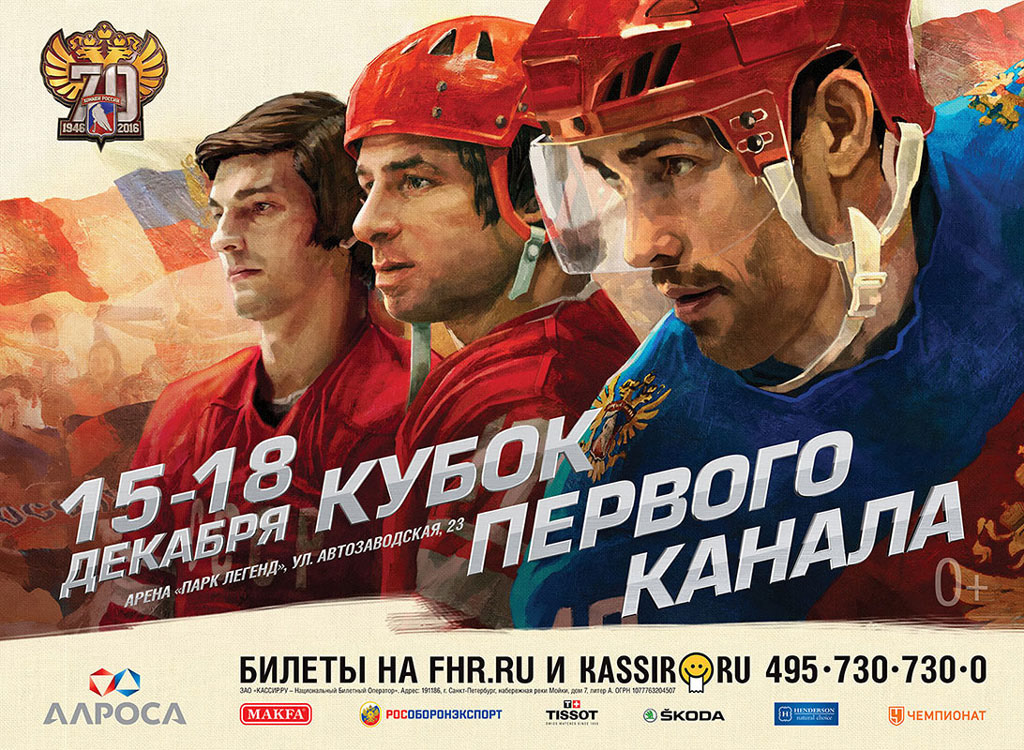 Further, we merged key images to make a new "central" composition that would better fit branding areas of the Ice Palace, primarily the main façade.
We "rolled out" the concept to all the agreed "surfaces" of the Ice Palace – entrance group, ticket offices, players areas, media tables, barriers, fences, etc. We also used images to decorate the special exhibition inside the Ice Hockey museum located next to the sports venue. And, finally, we applied images for the event print production – official match programs, tickets, car passes, badges, etc.