Location: 
Moscow & Saint Petersburg, Russia
Client: 
Russian Ice Hockey Federation
Intro:
 IIHF World Championship 2016 was held in Russia in two main cities – Moscow and Saint Petersburg. Two arenas hosted all the tournament matches – a newly built Moscow Ice Palace (capacity of 12,100) and a newly renovated Yubileiny Palace (capacity of 7,300). The Russian Ice Hockey Federation rented both venues, and so they both had either neutral or no branding at all.
Objective:
 To develop a set of creatives to be "rolled out" for (1) event advertising campaign, (2) branding for venues and fan areas, and (3) merchandise promo and sales points.
We figured that such "multi-purpose use" creatives should have single theme, so that people would instantly recognize and associate event-related branding in all – digital and physical – touchpoints.
As a "uniting" element to be included into any visual communication image, we developed a 3D logo bearing event title ("World Championship").

Ice Hockey World Championship is a huge event that brings many nations together creating a bright blend of national colors in one place. It is a festive holiday! We wanted to reflect this in the general creative theme and developed an eye-catching "Everyone's welcome" concept, depicting this mix of colors from all over the world.
First, we applied this concept onto key images intended to advertise the event – one for Moscow and one for Saint Petersburg. A huge diverse crowd is walking to the arena to watch a match, and some fans stop to make a selfie with Laika, the event mascot.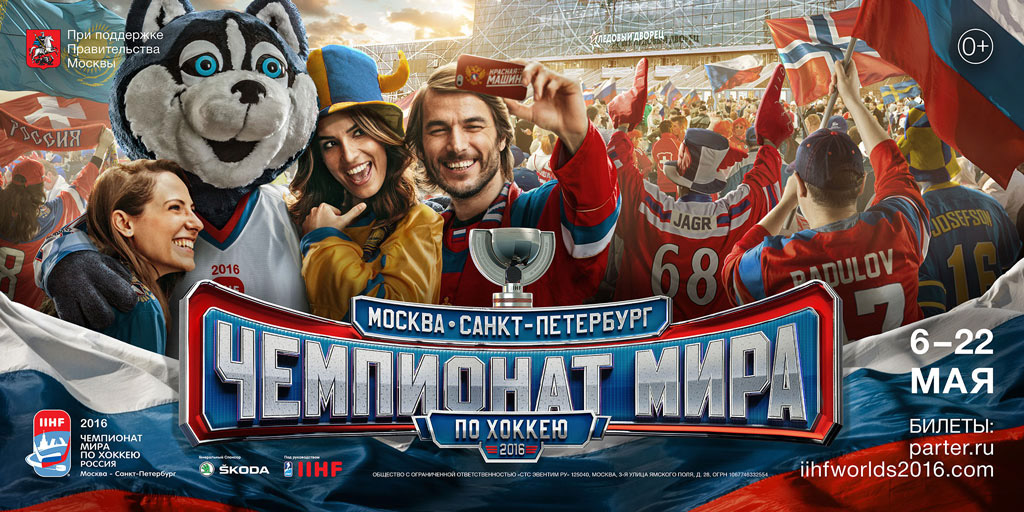 Second, we created a pattern-like image primarily aimed at decorating arenas, fan zones, etc. We combined flags of all participating countries with famous monuments and sights of the two hosting cities – Moscow and Saint Petersburg.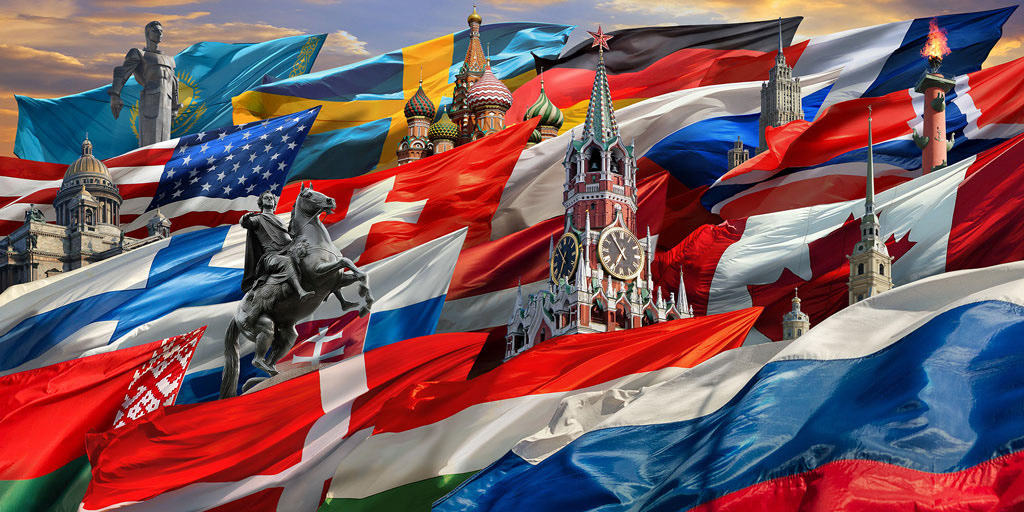 Final key visual was intended mainly to showcase fan merchandise "in action" – worn by the fans. Since the Championship was held in Russia, most merchandise items were dedicated to Russia and support of the Russian team, and hence, we chose to depict this support in its peak expression – the crowd inside the arena and during the match.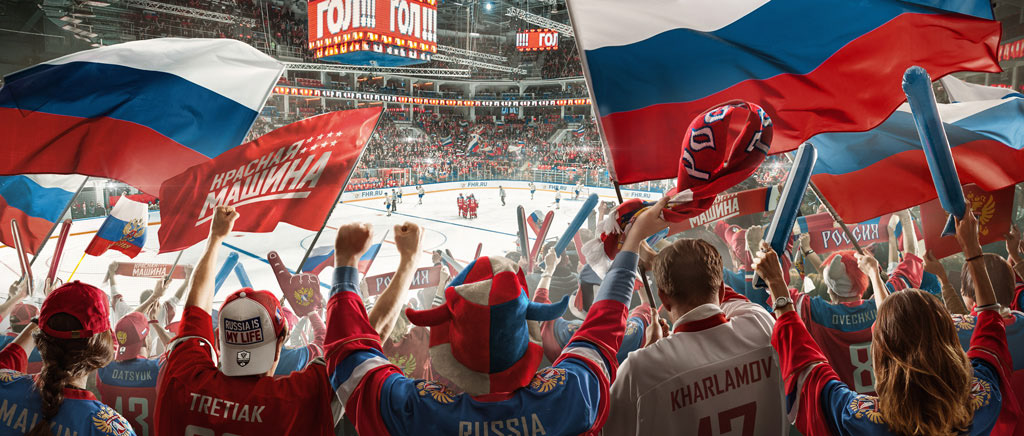 These four key images were sufficient for us to "roll out" the concept onto every touchpoint. We adopted them to fit multiple formats and created a full suite of visuals. Eventually, each fan could see the visuals during his entire experience:
- digital: websites, social media, web-banners (when fans search for info about the event and buy tickets)
- OOH: airports, railway stations, street ads (when fans arrive to the city and make their way to the arenas)
- fan areas: stages, pavilions, giant screen graphics, etc. (when fans get energized prior to the games)
- venue branding: facades, main entrances, stairs, fence scrim, etc. (when fans arrive and make their way to their seat)
- fan shops: décor elements and merchandise items (when fans buy memorabilia)
The event got a vivid visual look attracting attention of citizens and guests of the two main Russian cities.