Location:
 Helsinki, Finland
Intro: 
Hartwall Arena (capacity: around 13,000) is the largest multifunctional indoor venue in the country originally built for the Ice Hockey World Championship in 1997. Hartwall is convertible for various events – sports, concerts, exhibitions, etc. In 2014, the Arena became the official location for KHL matches, and the management initiated a project of brand repositioning.
Objective:
 Overall facelift of the Arena.
Hartwall Arena is the place where thousands of spectators from entire Finland and from near abroad regularly gather to watch performances of the best of the best – the world star singers and sportsmen.
We came up with a creative concept highlighting that Hartwall is indeed the first-class place for entertainment of highest quality no matter which event is taking place. Because it is "The land of Entertainment"!
We "put" spectators into the atmosphere of the brightest show, introducing clear symbols and attributes typical for truly fantastic events. Hartwall Arena is shown in its greatest moment – full house during a concert and an ice hockey match. There is crazy support coming from the stands.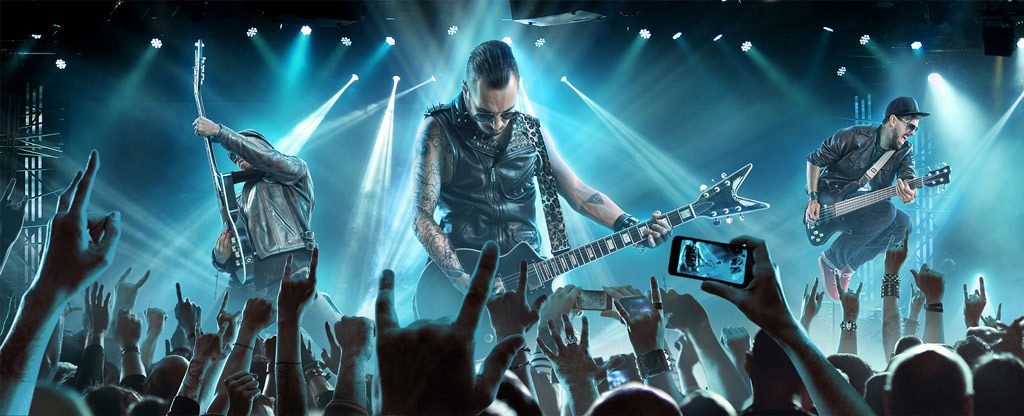 We knew there should be no domination of music over sport or vice versa. Therefore, we split Entertainment to several equally important "lands" – Rock, Pop, Jokerit and National Ice hockey team. Even though the main content of these lands featured different celebrities, we used one connecting link – hands raised by the cheering audience.
Having analyzed main routes of guests attending the arena, we understood that those coming to watch hockey would enter from the lower level, and to see the music show – from the upper level. So we thoughtfully located theme branding in respective areas. The task was to brand such amount of walls that each guest would see it at least three times during the visit.
The theme is dedicated to the National Ice Hockey team of Finland that is usually playing home matches at Hartwall Arena. It features legendary players from earlier history of the Finnish hockey to contemporary heroes – Veli-Pekka Ketola, Timo Jutila, Teemu Selänne, Ville Peltonen, Raimo Helminen, Jari Kurri, Saku Koivu.
The highlight of this "land" is the re-created memorial goal scored by Mikael Granlund at the World Championship semi-final against Russia that the entire nation is proud of!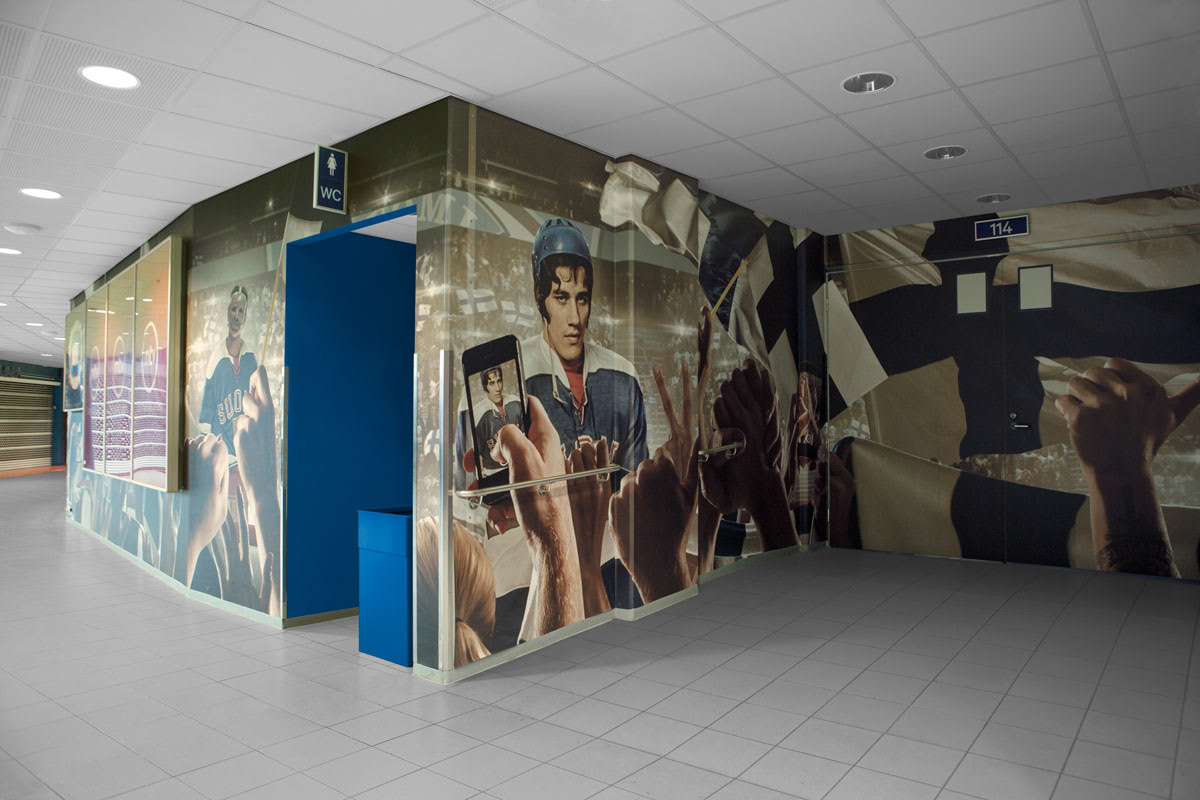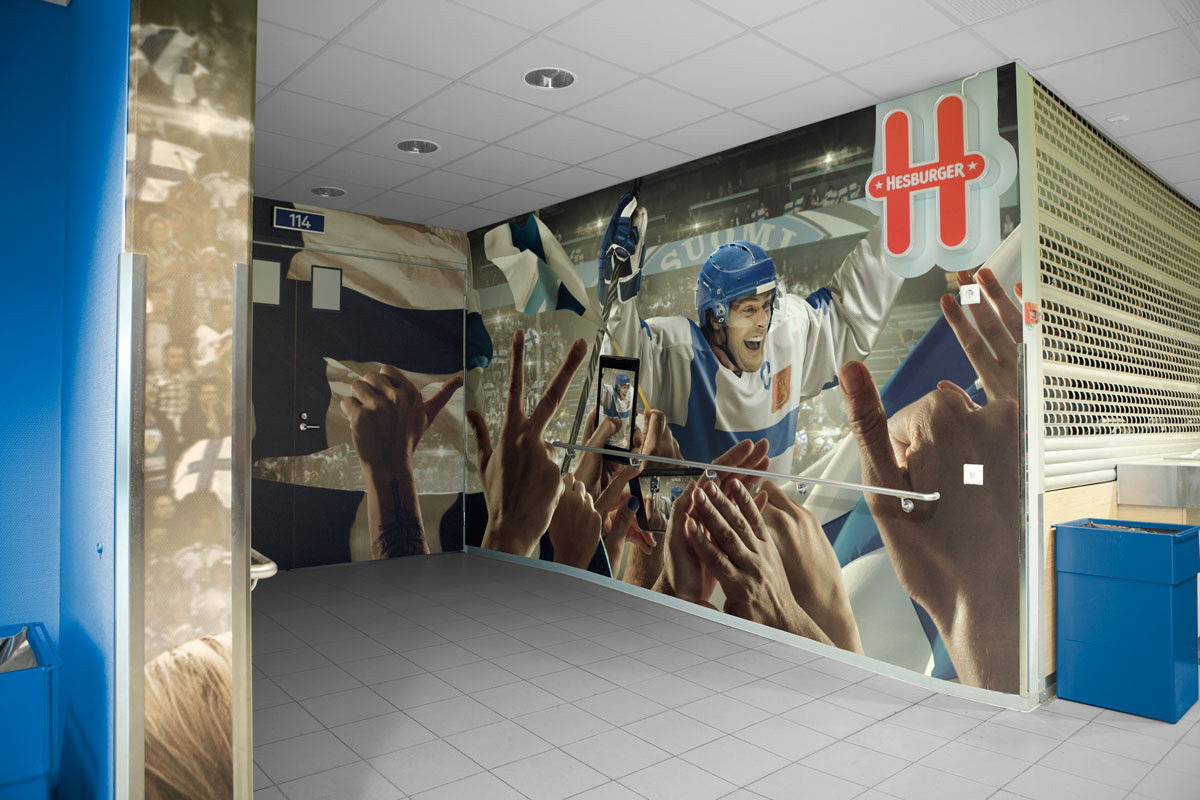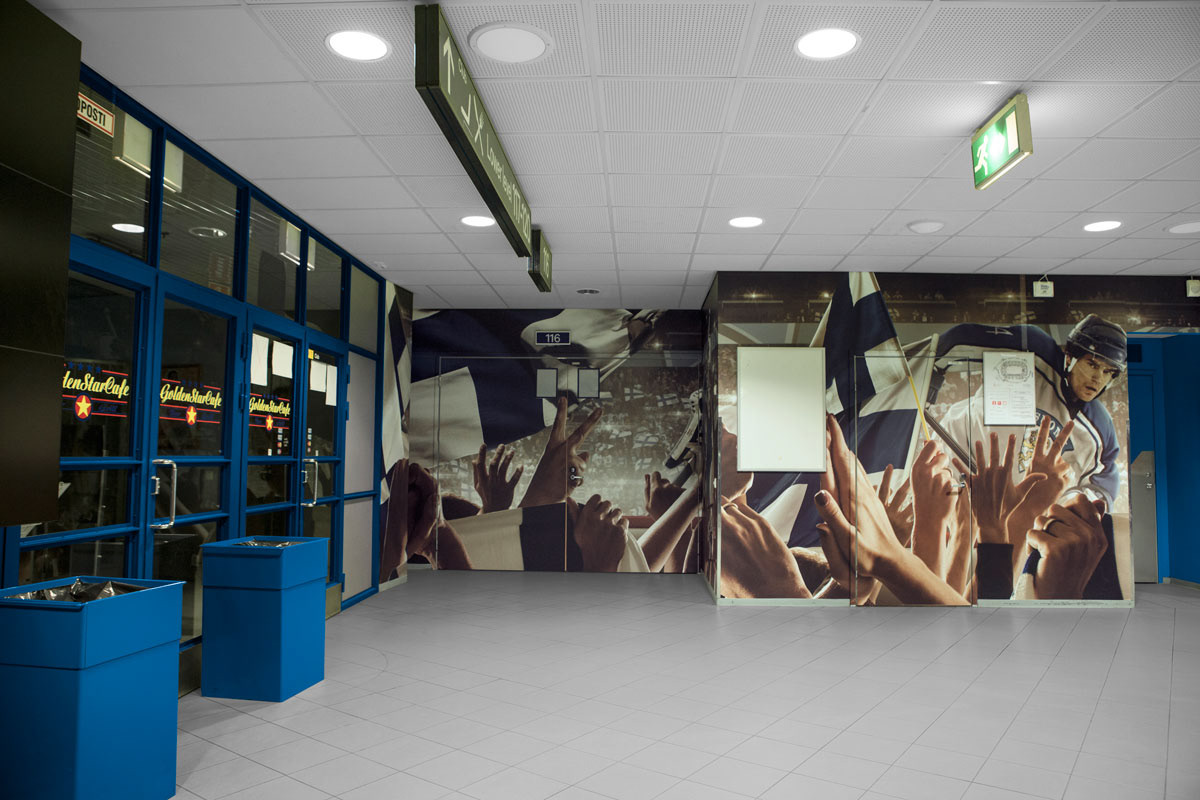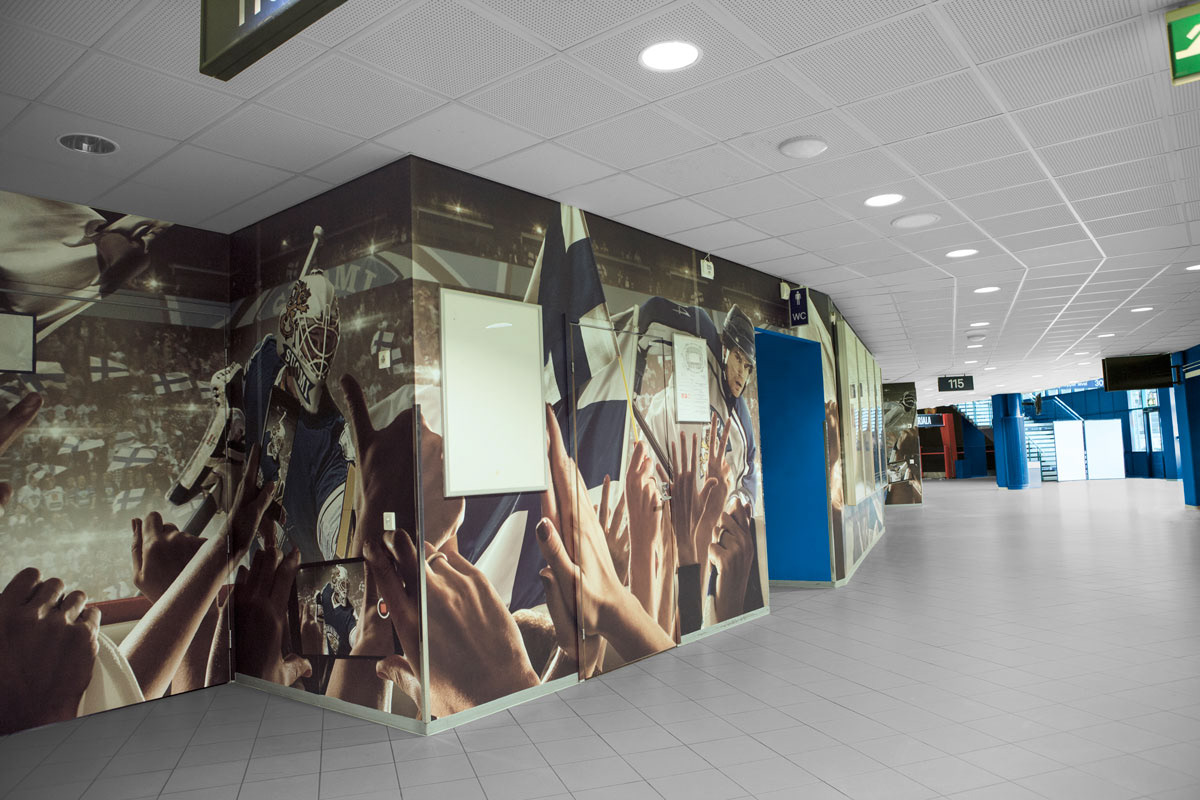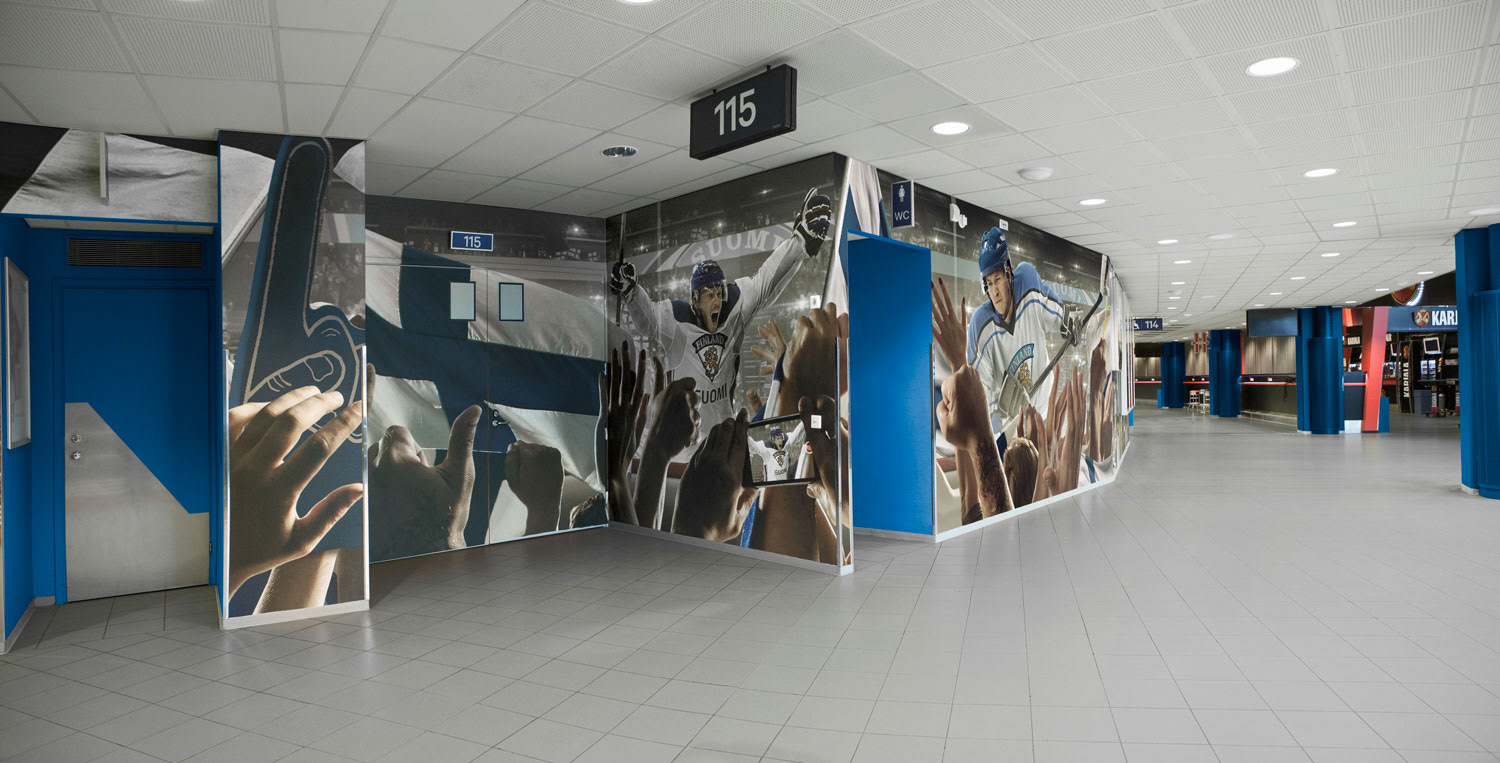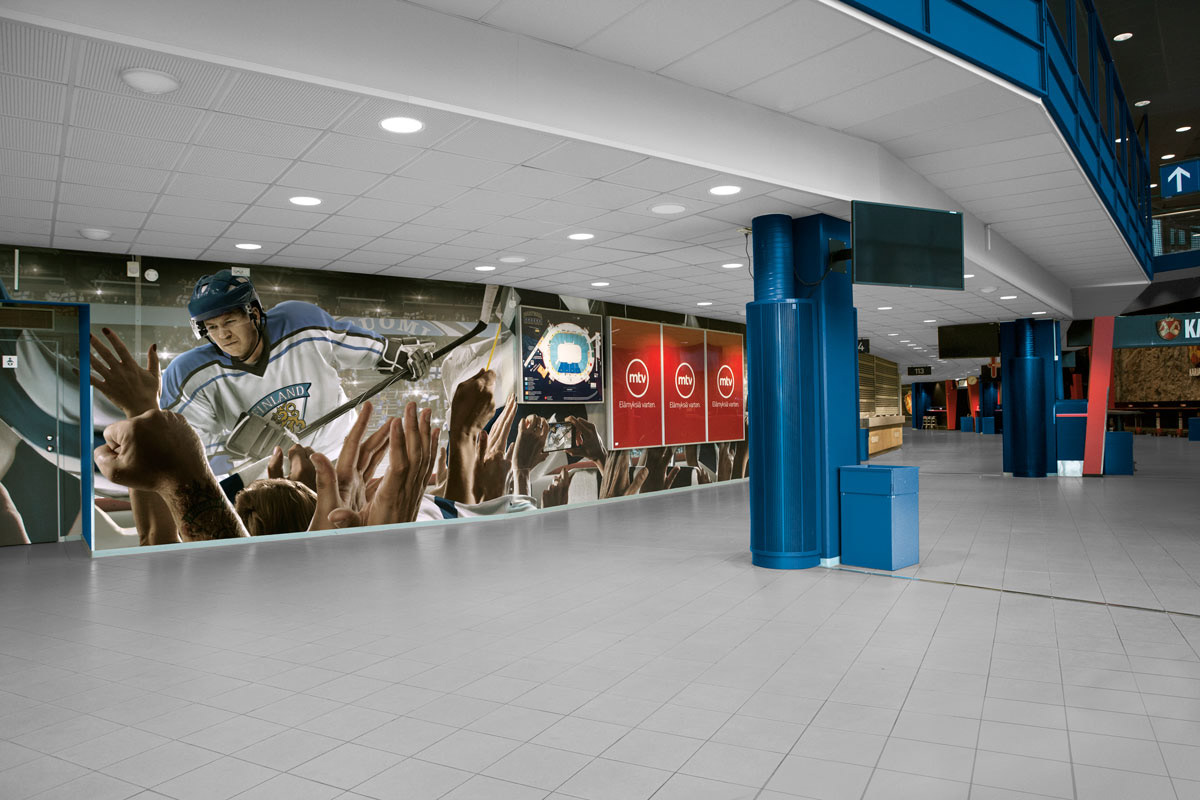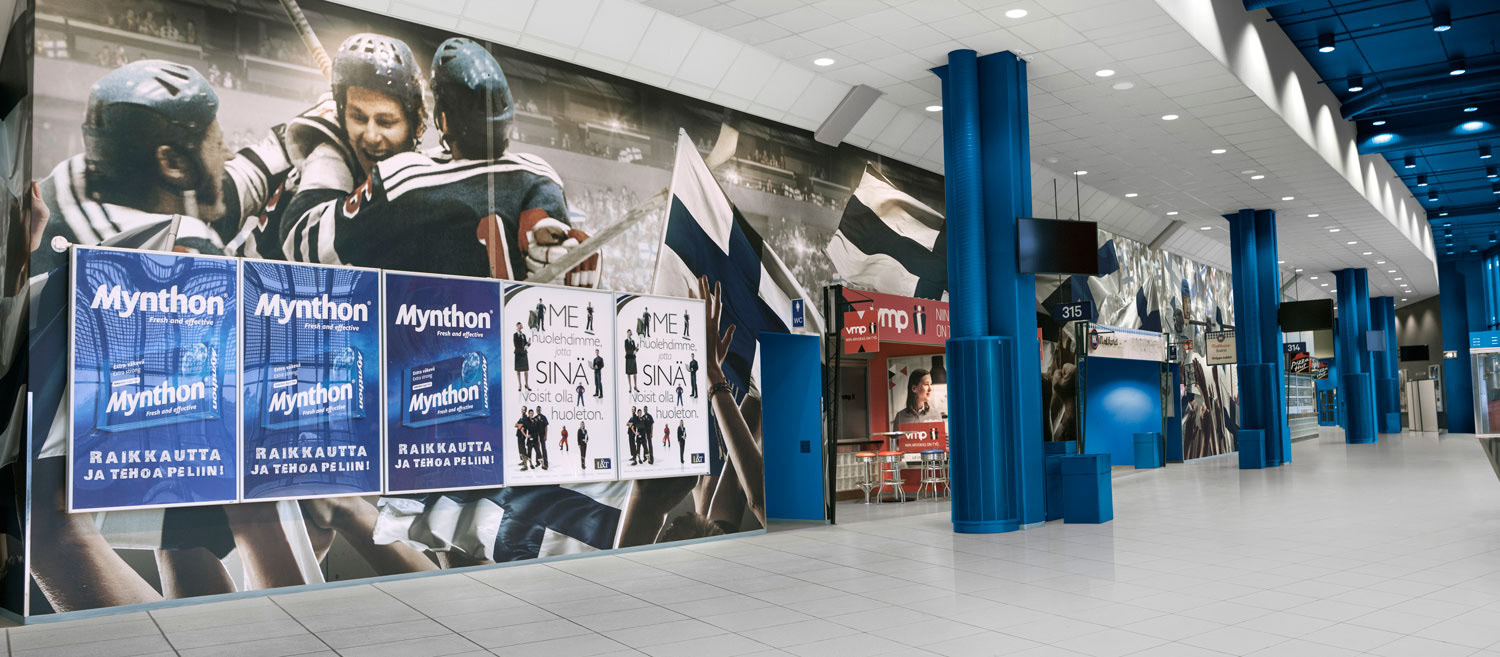 In 2014, Hartwall Arena became the official venue for KHL matches – the home arena of HC Jokerit. One of the objectives was to provoke curiosity among people towards KHL and to make them come and see how KHL teams are playing and how Jokerit is competing against them.
Jokerit was founded in 1967, and the team won 6 league championships as a member of the Finnish SM-liiga. So we got a chance to use images of the club's legends and current players such as Antti-Jussi Niemi, Ari Sulander, Pentti Hiirros, Waltteri Immonen, Timo Turunen and others.
Main area for Jokerit branding was allocated in that Arena part where most of the local active fans had their seats.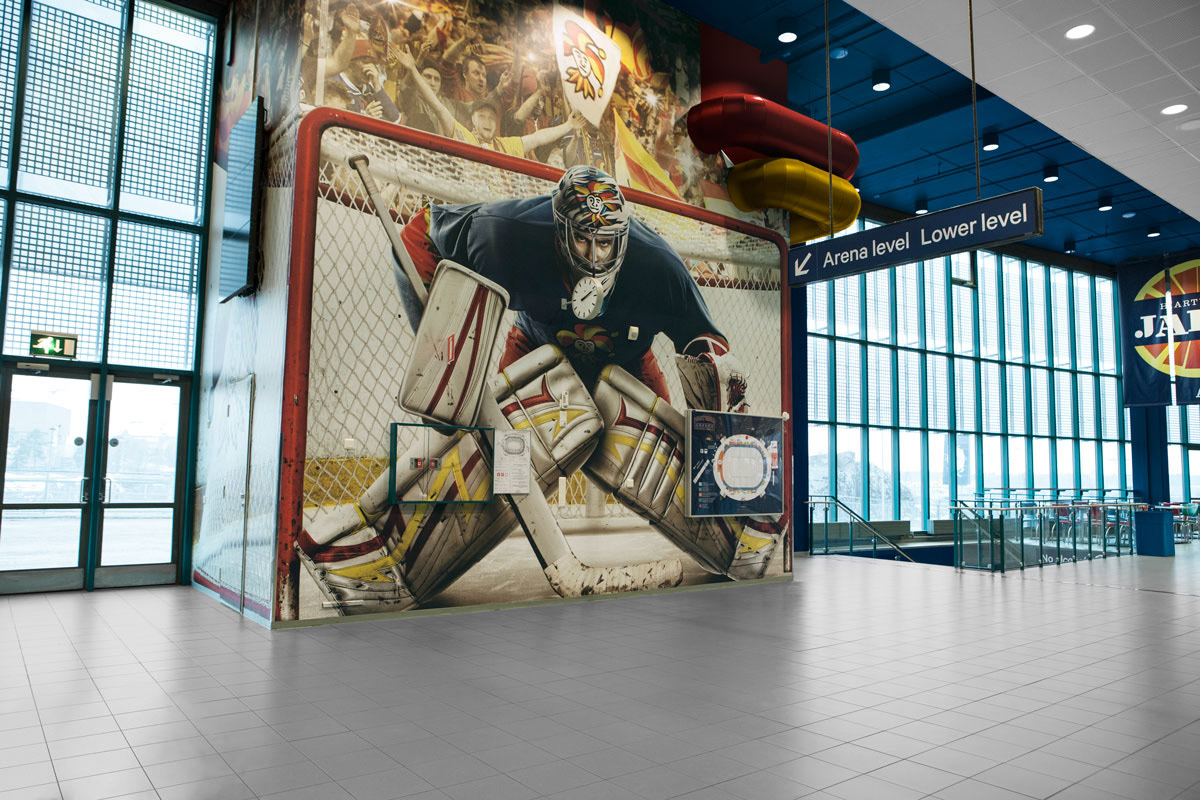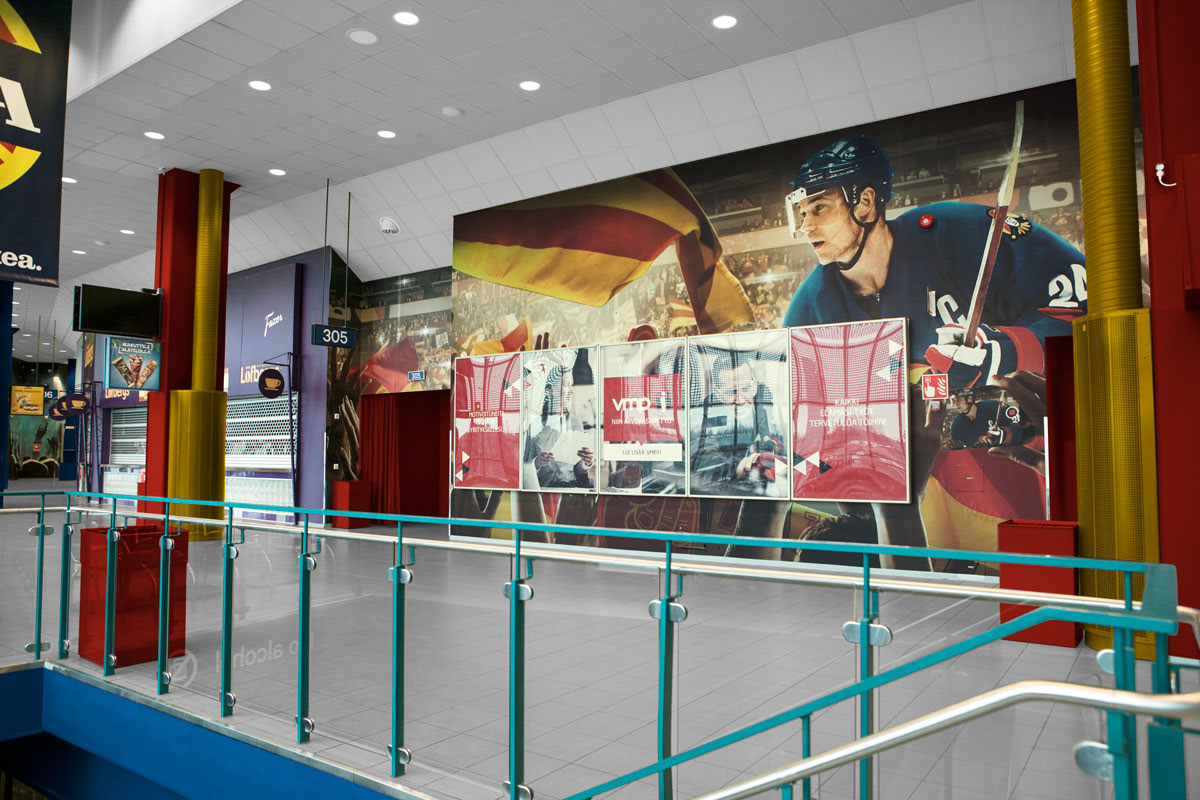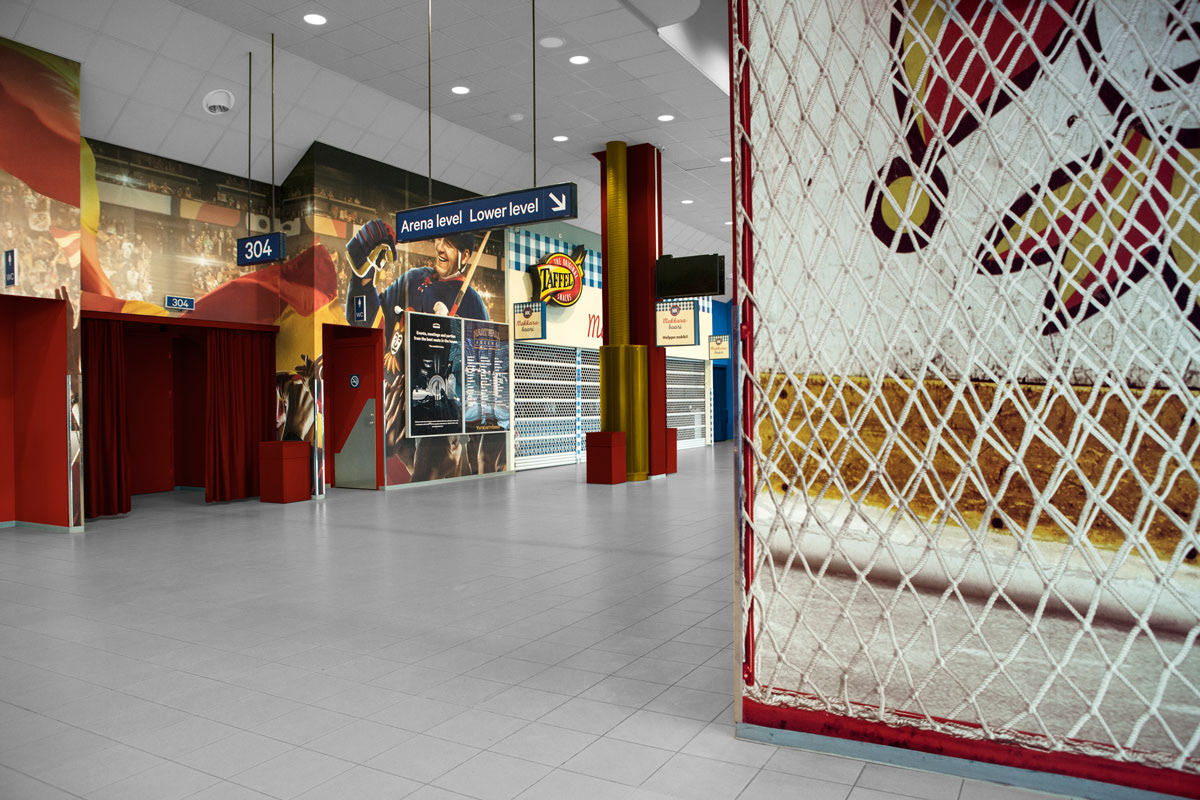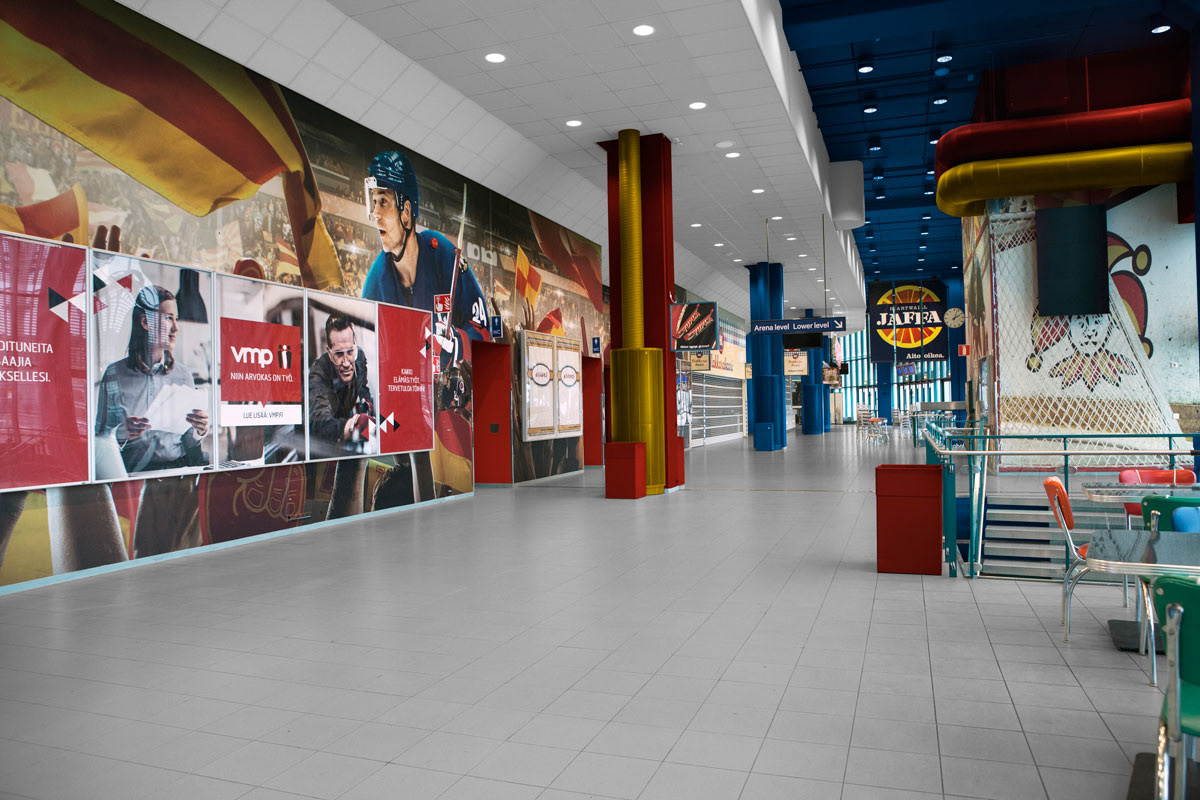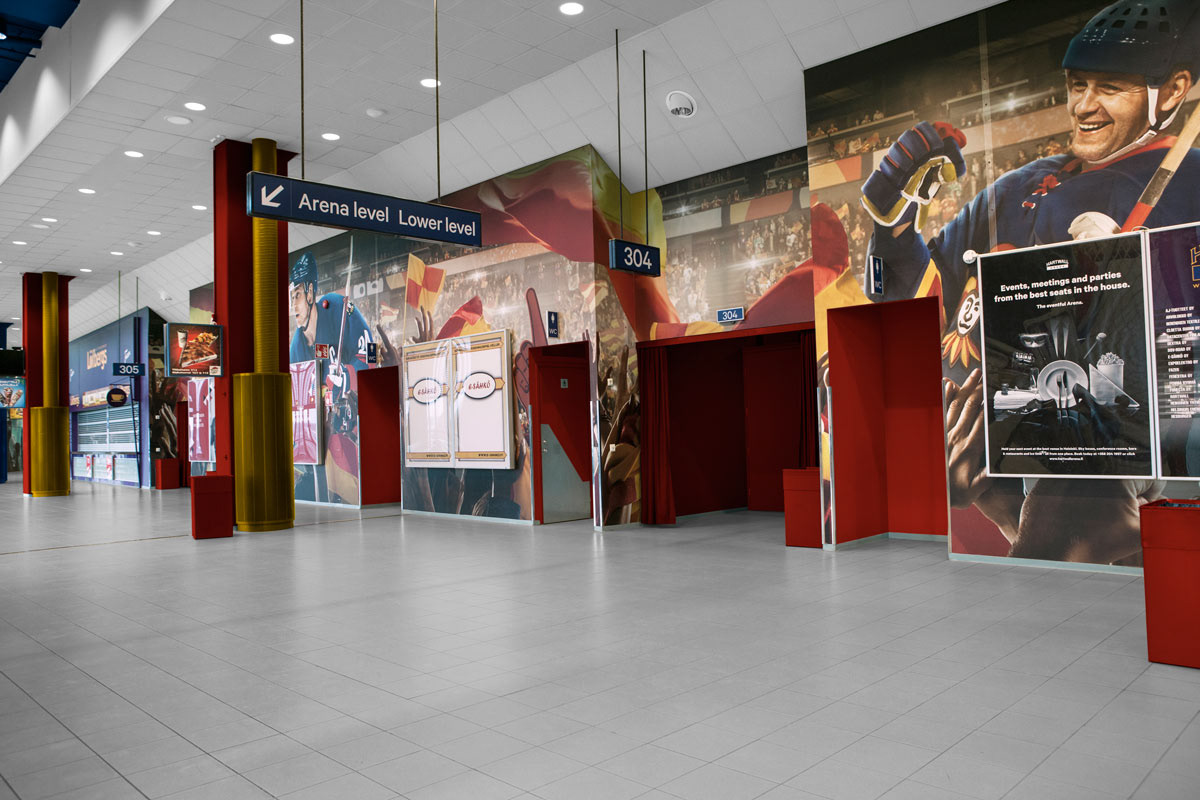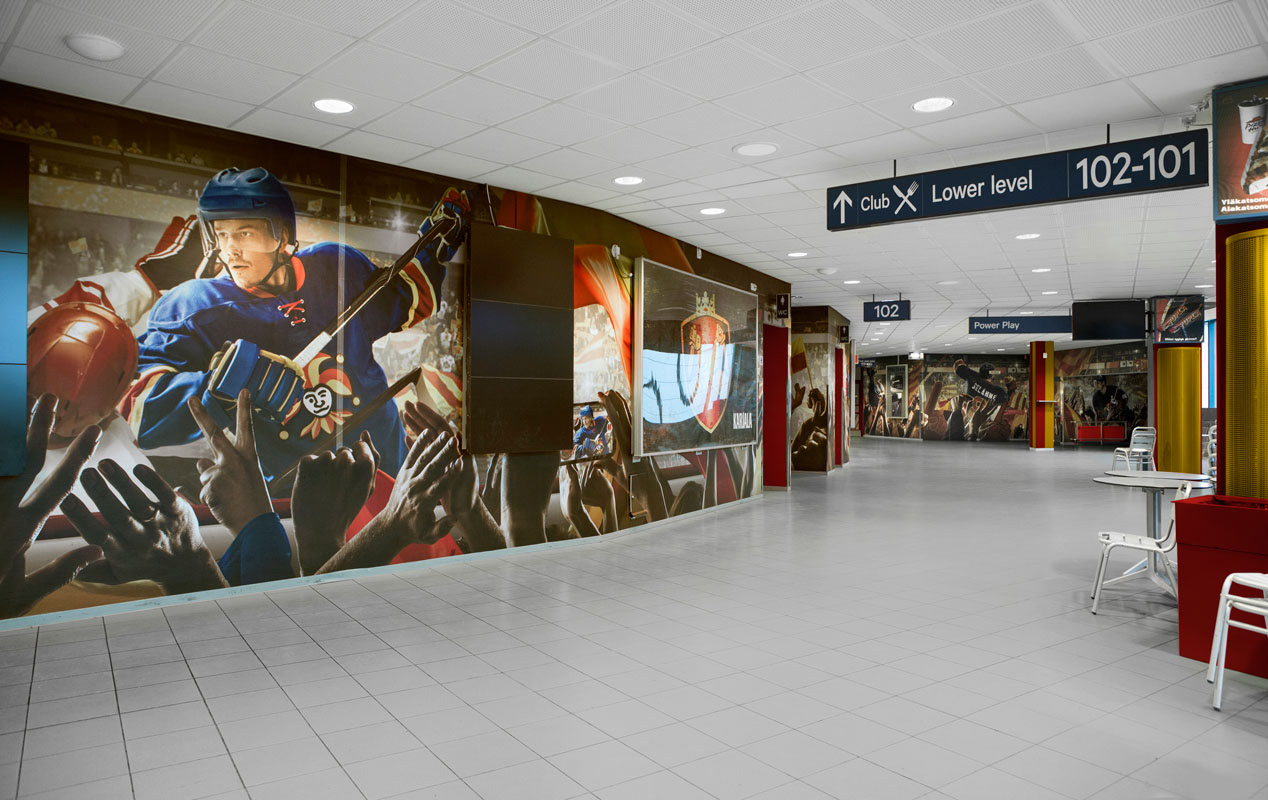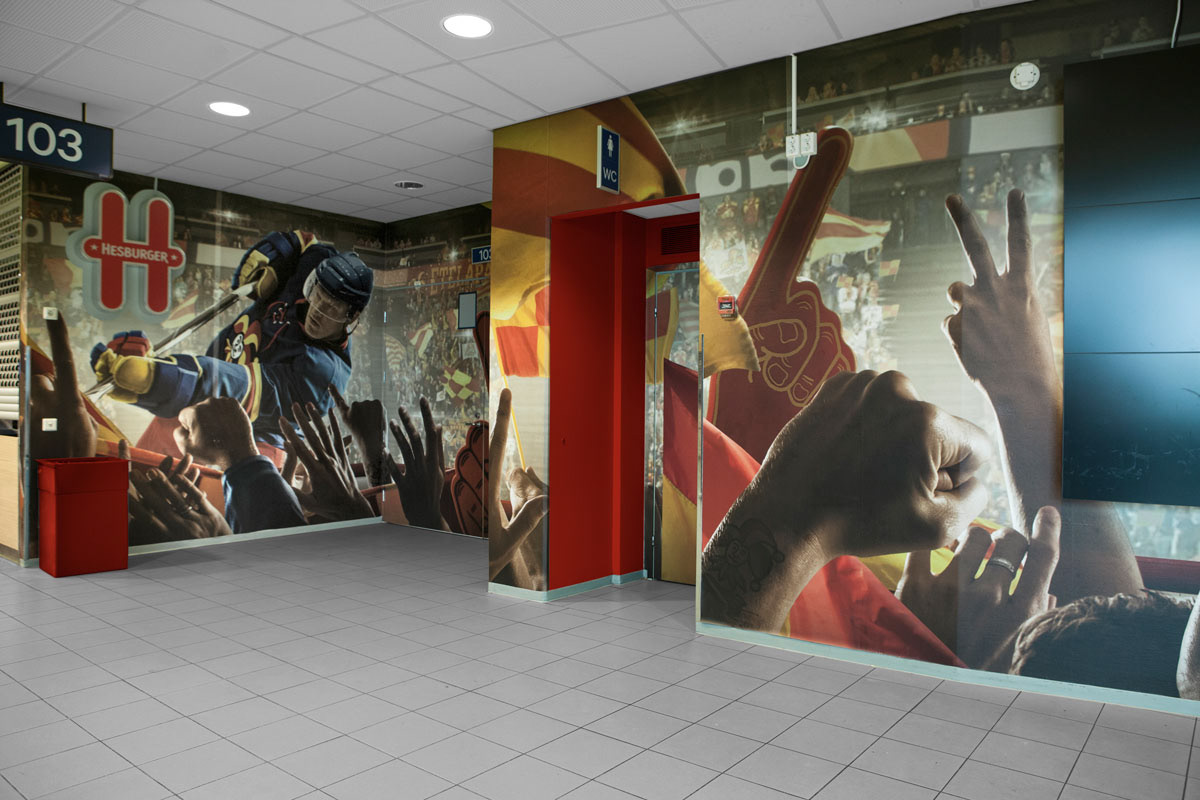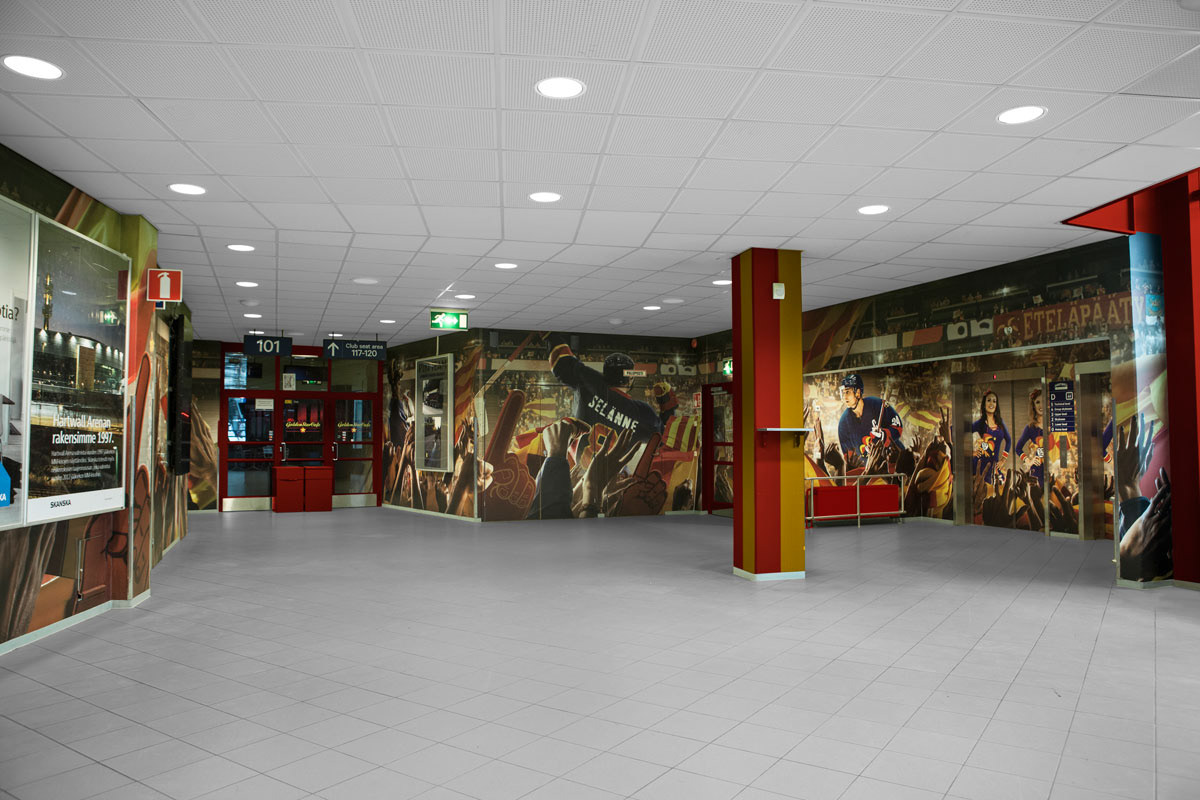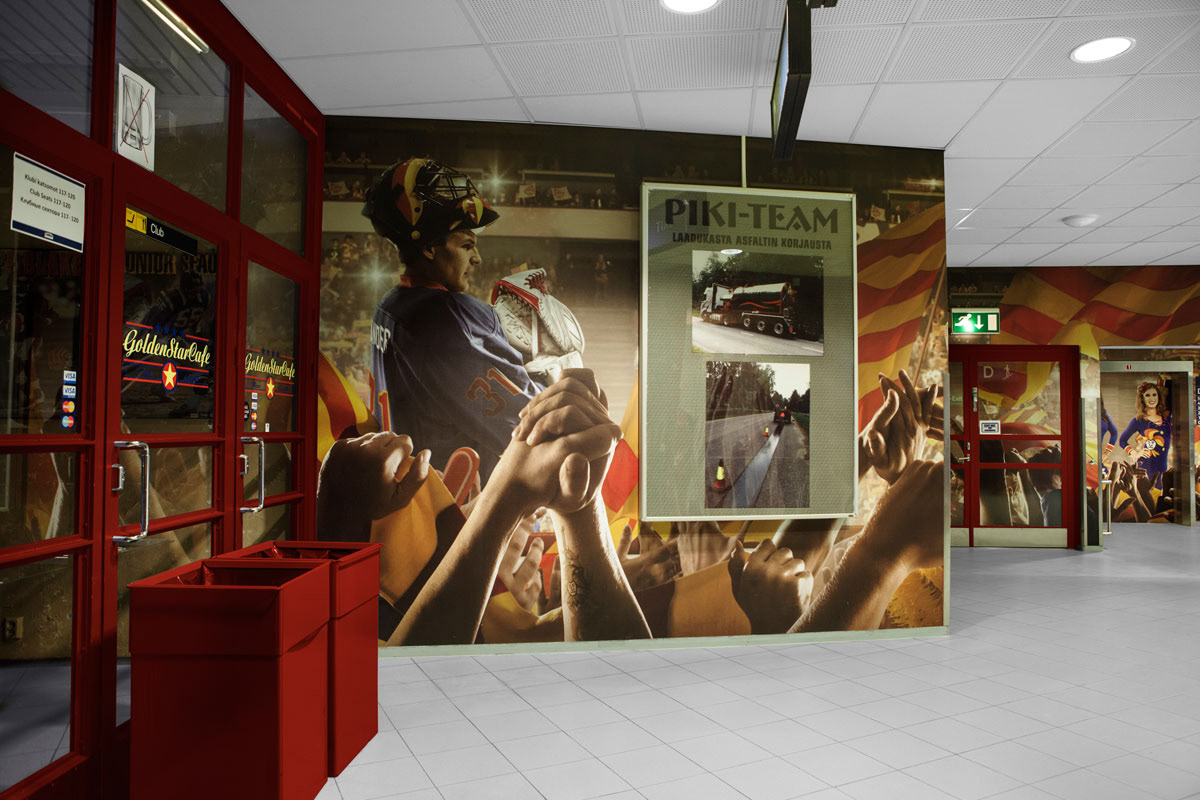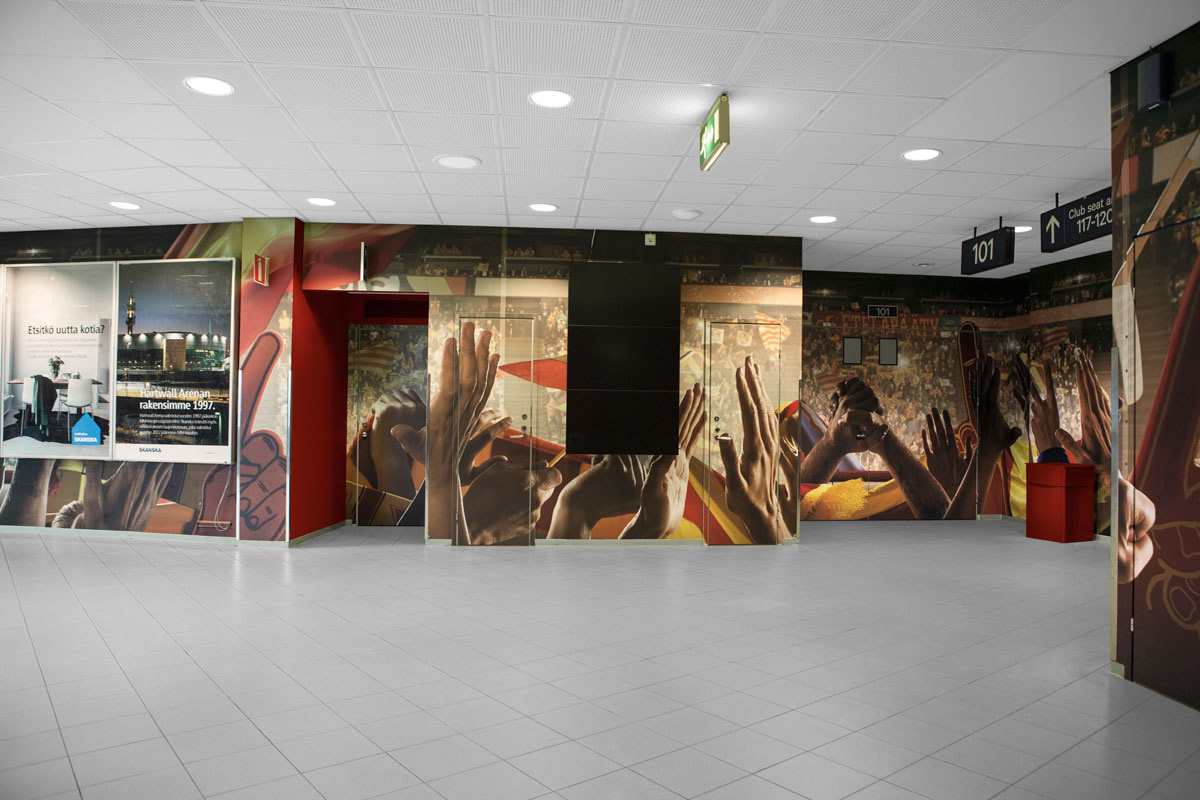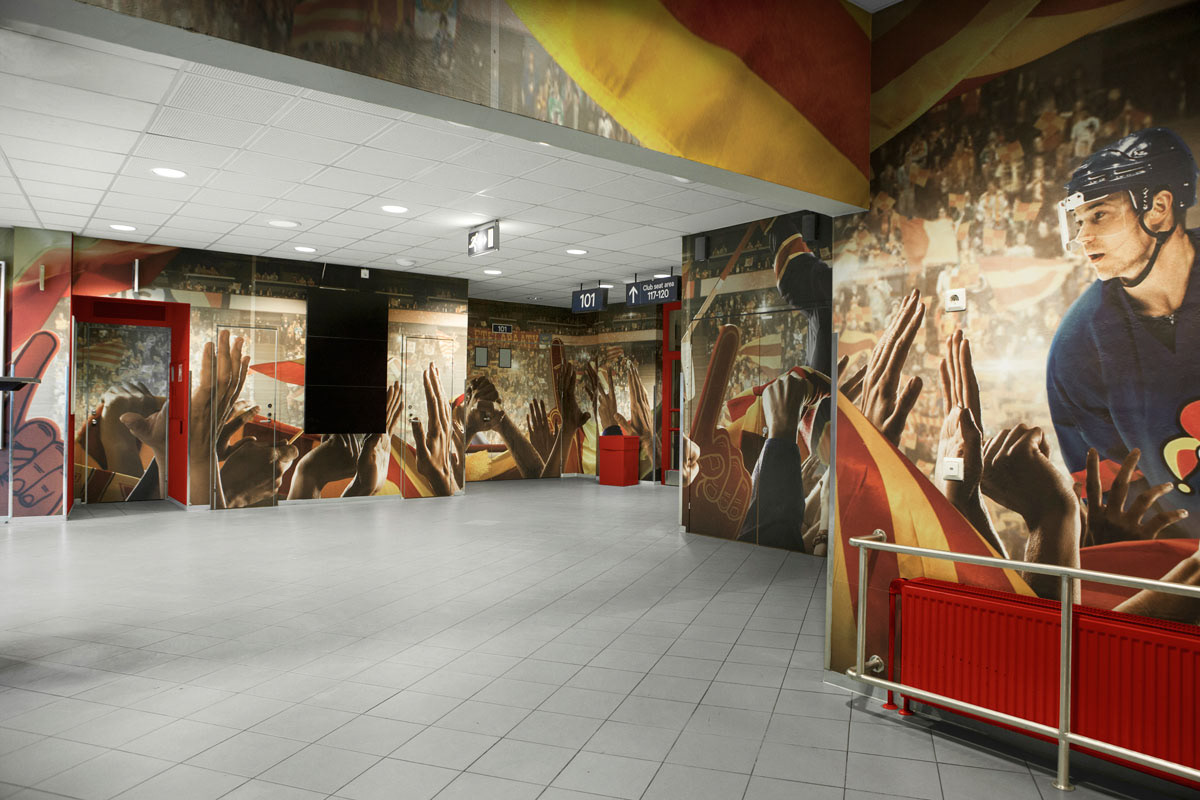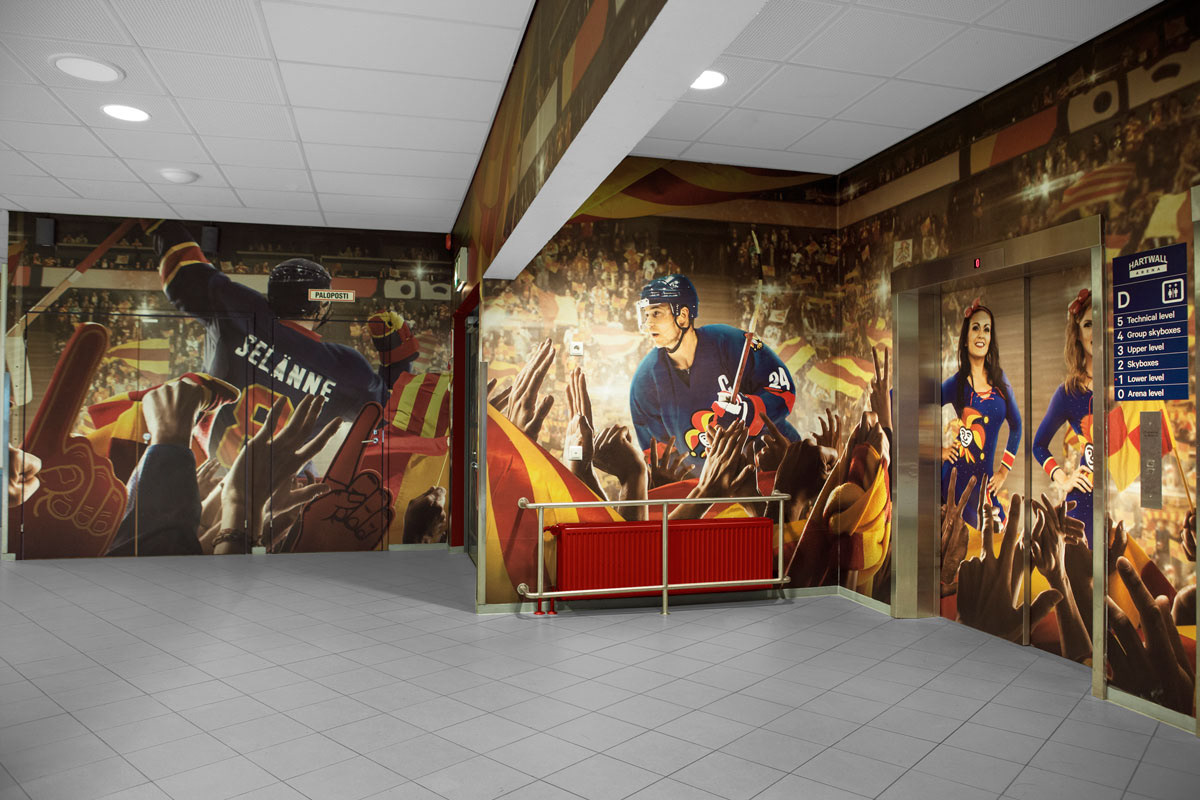 Many world class performing artists of a wide range of music genres gave shows at Hartwall. Naturally, the main Arena hosted the Eurovision song contest in 2007.
We carefully looked through the list of the music stars and clearly saw two large "groups", the first being "Pop". Spice Girls, Cher, Tina Turner, Whitney Houston, George Michael, Backstreet Boys, Shakira, Anastacia, Eagles, Robbie Williams, Justin Timberlake, Britney Spears, Brian Adams, Sir Elton John, Celine Dion and the list goes on.
We had no rights to depict the real musicians, however, we gathered distinctive characters in certain postures that would explicitly show leading singers, guitar players, DJs, etc.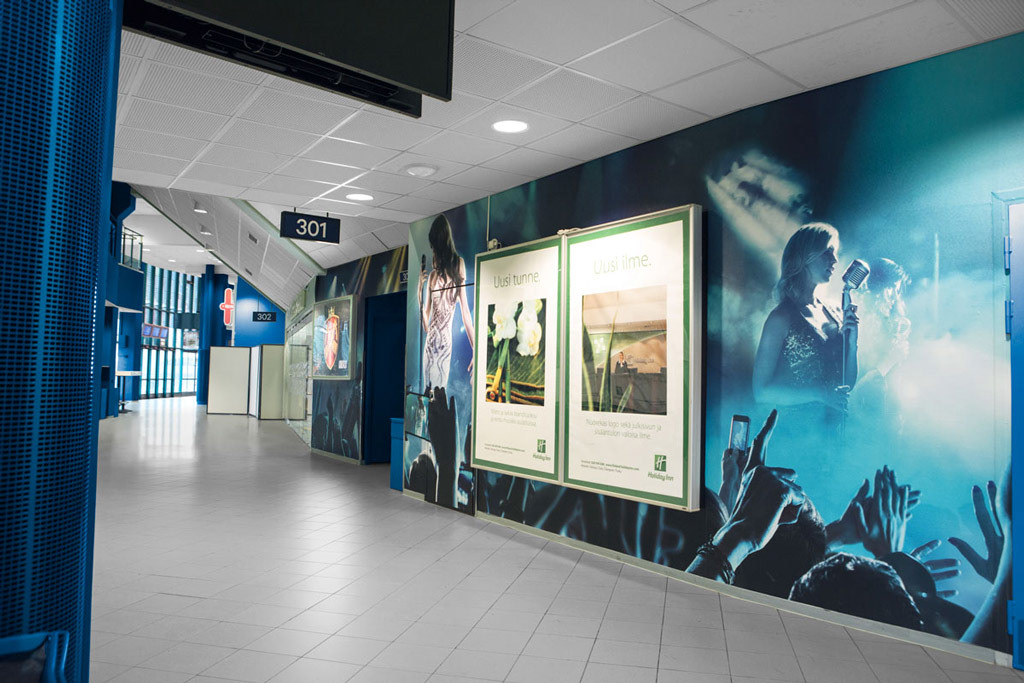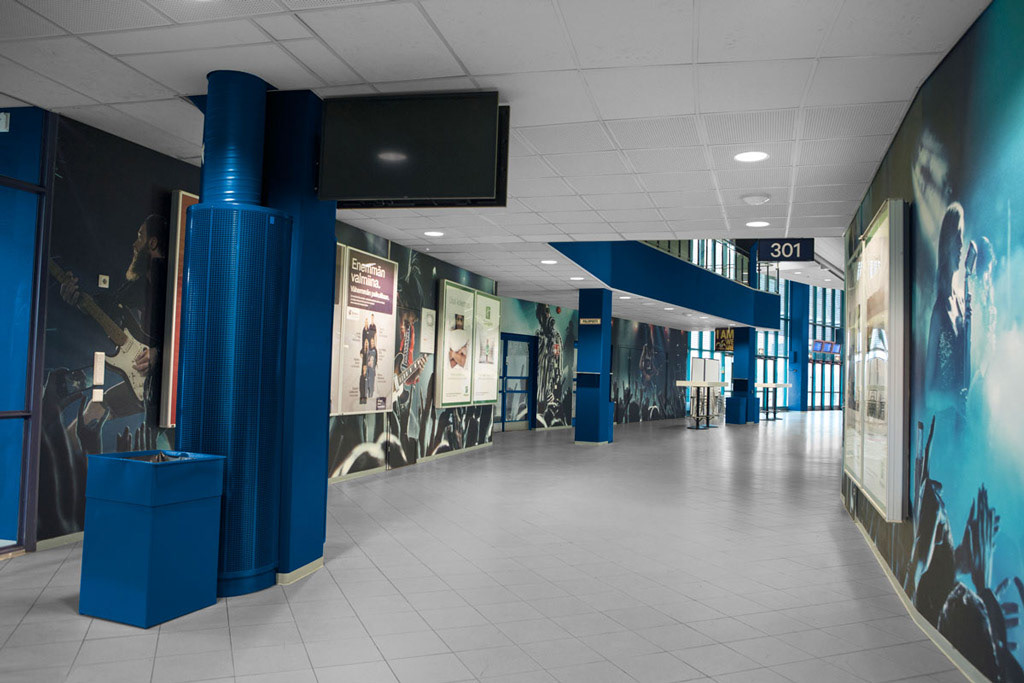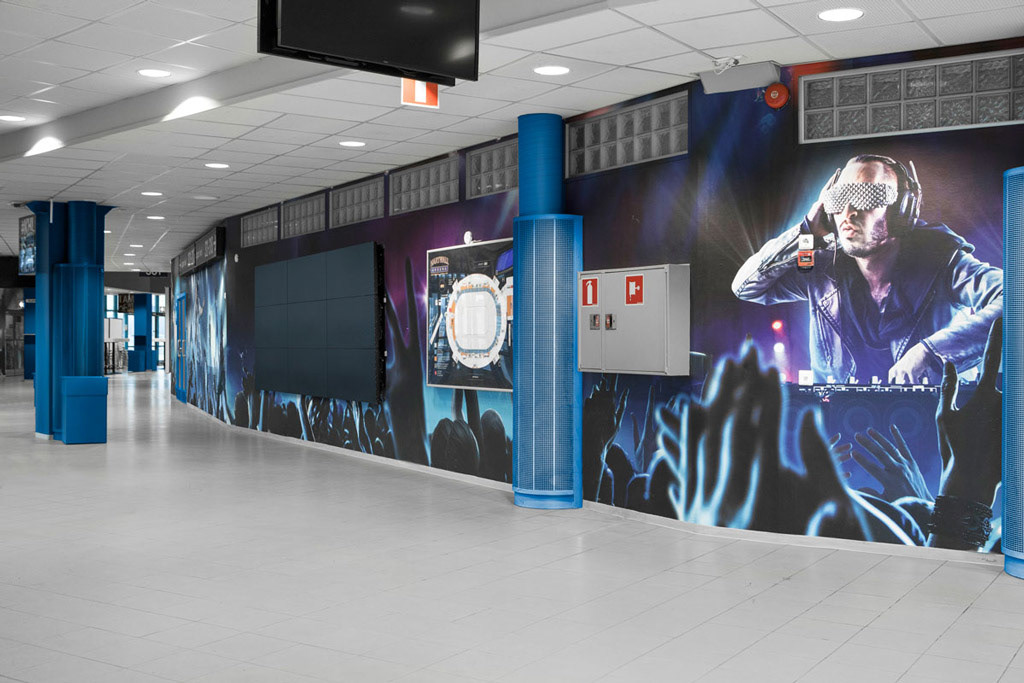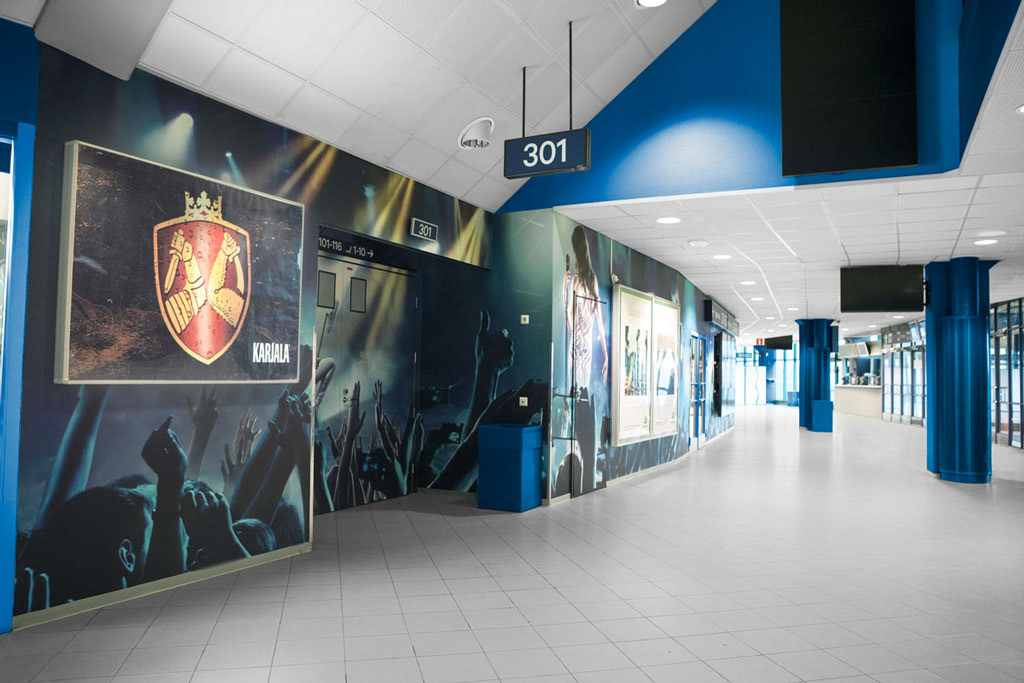 The second "group" we identified was good old "Rock"! Scorpions, Deep Purple, Guns 'n' Roses, Nickelback, Kiss, Metallica, Iron Maiden, Aerosmith, Black Sabbath, etc.
Rock is a broad genre embracing multiple styles. But there are several certain visual characteristics about rock that we chose to show. Electric guitar, electric bass and drums, finger gestures, hairstyles, tattoos, fire, smoke, lights, energy, etc.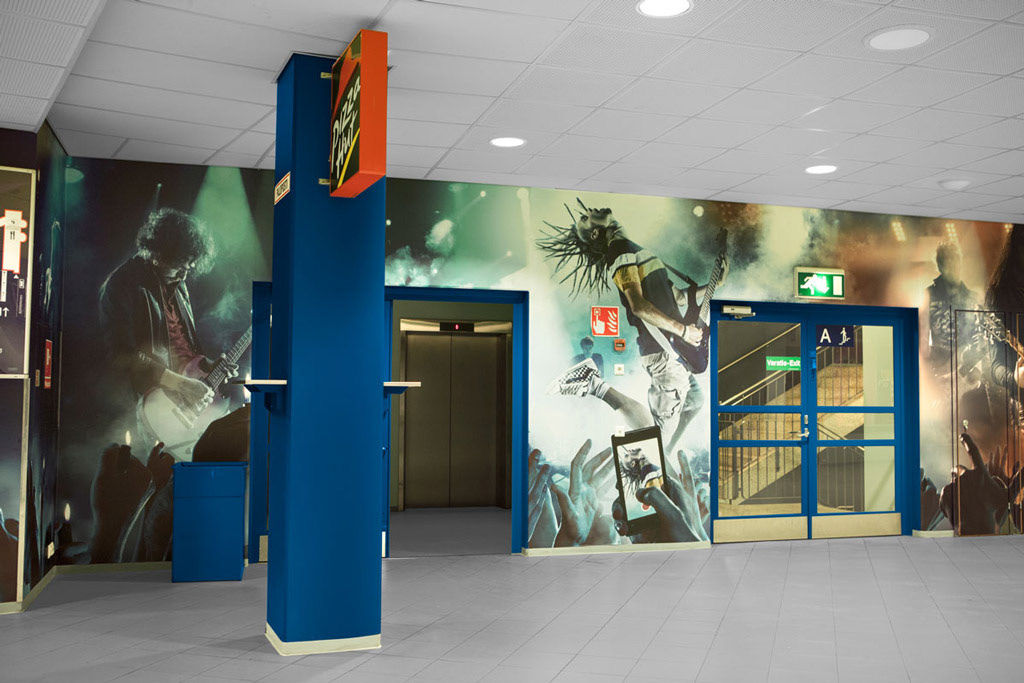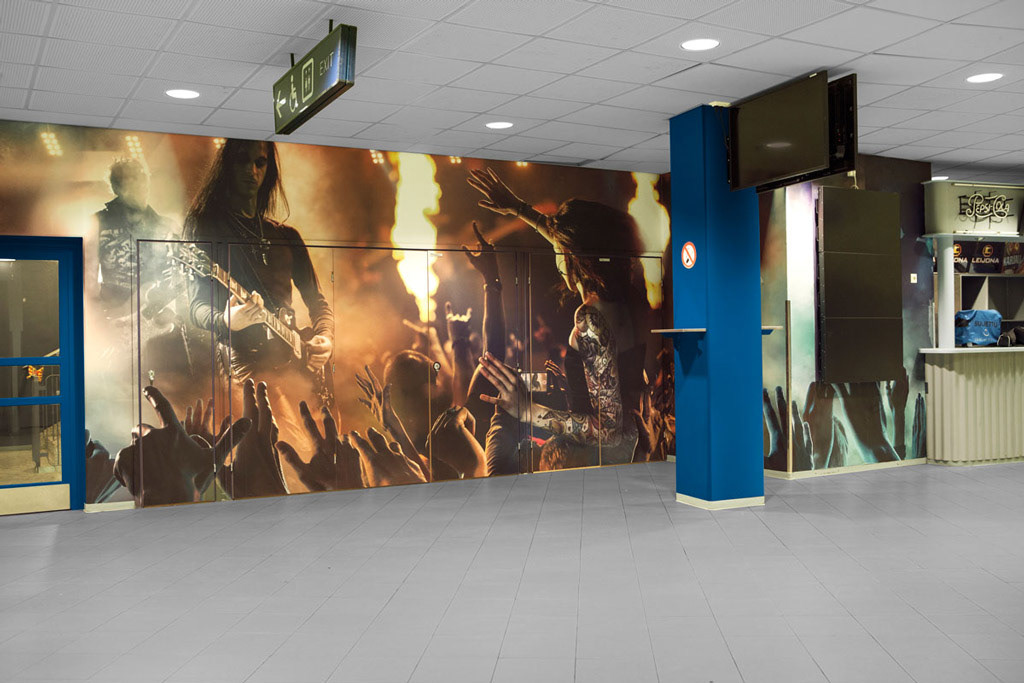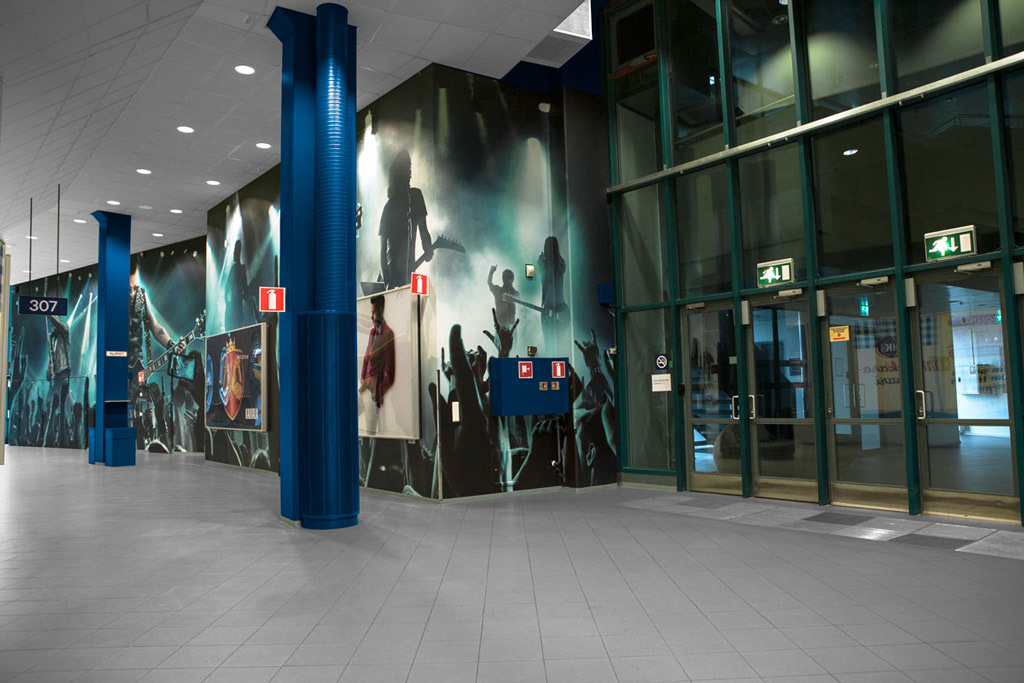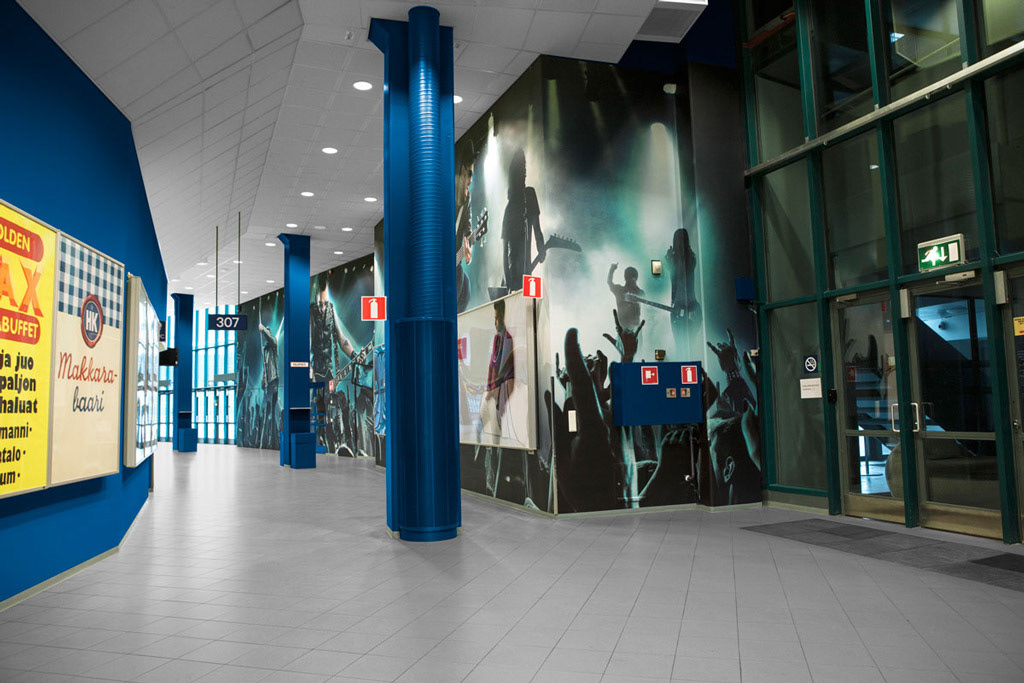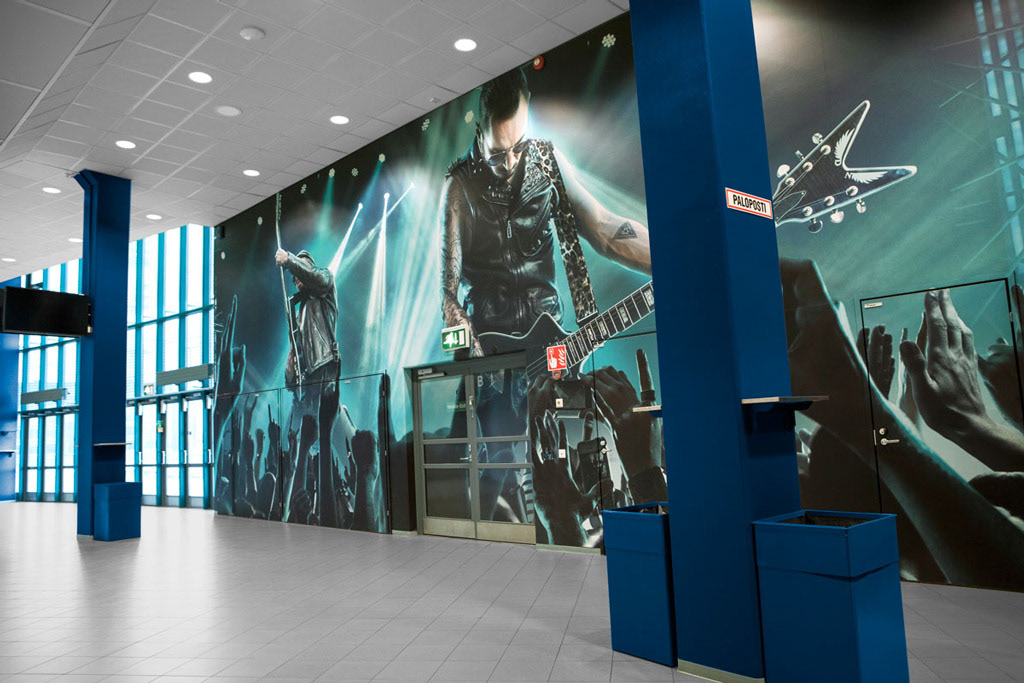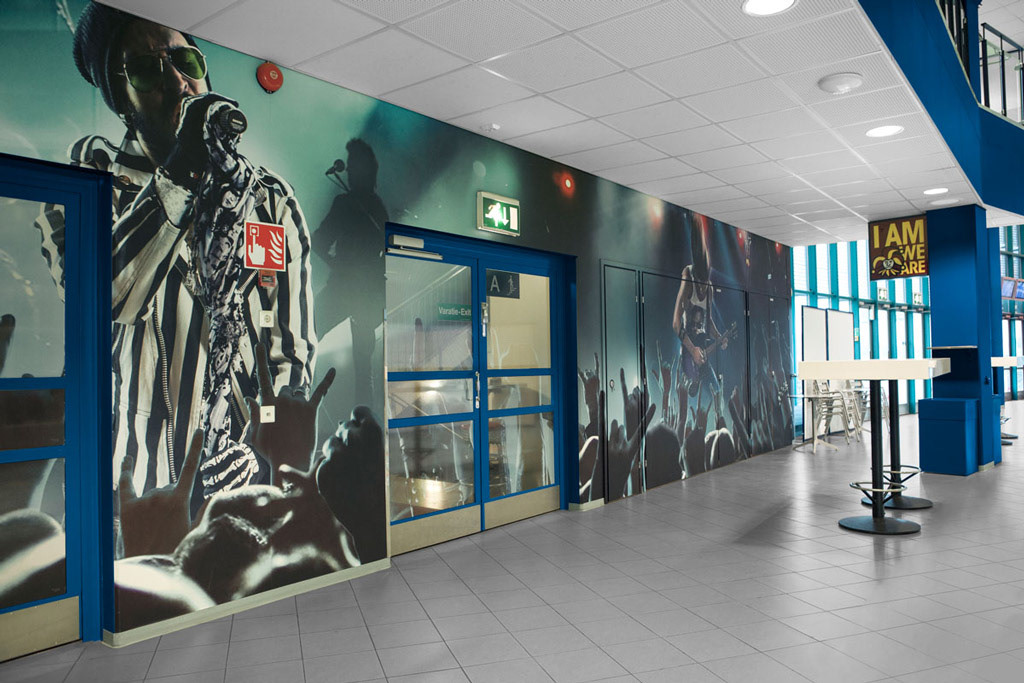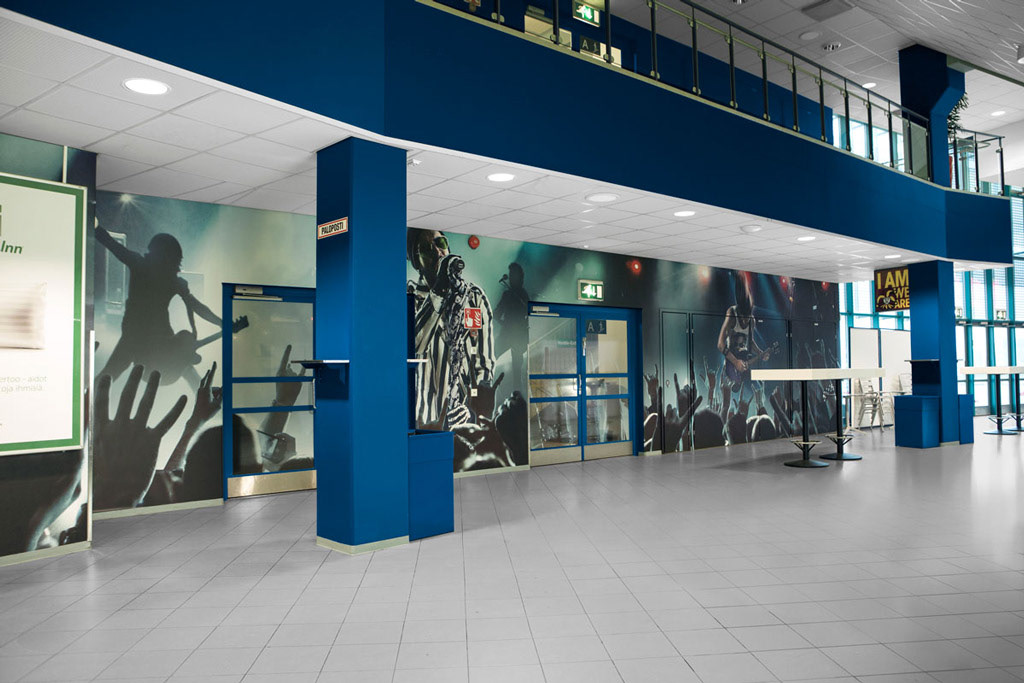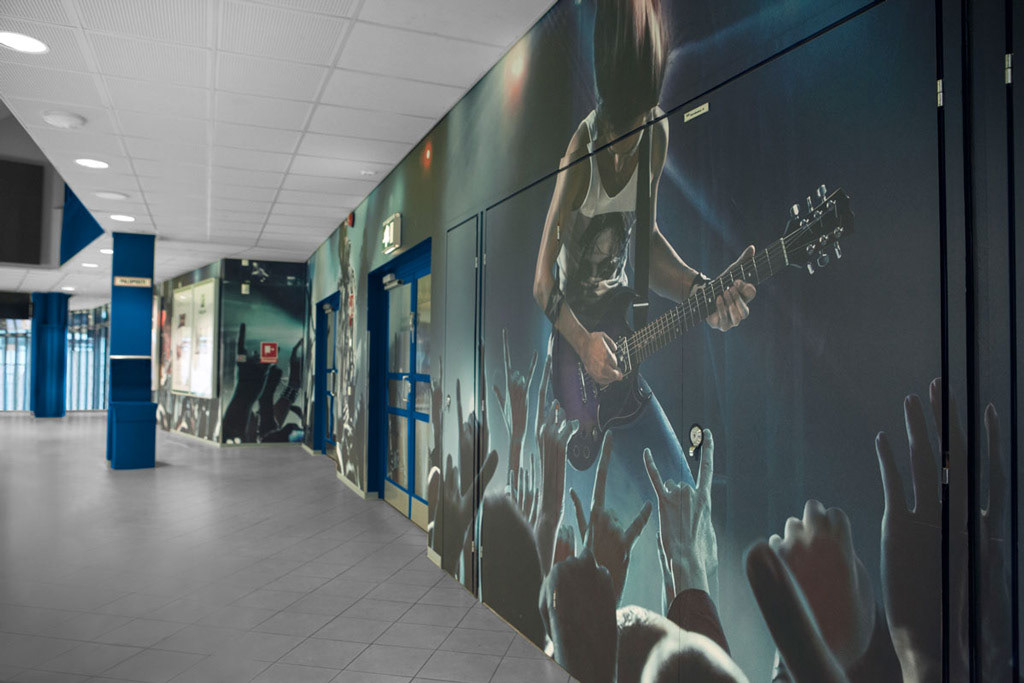 We proposed all the surfaces and spots for advertising to adapt the concept – which walls and spaces would suit better for branding, which size of posters should be chosen, etc – the branding concept from the scratch. Since only few surfaces were ready for branding and some walls were not suitable to mantle posters, we accompanied design concept with constructive and technical proposals.
Another proposal we made was related to sponsors, namely two opportunities to invite sponsors to participate in the project. We used a number of telephones in branding – held in the hands of the crowd. These could have been certain models by a certain producer – great creative advertising. The second opportunity was connected with the paint producer, as the project implied generous use of paint.
As a result, the project radically improved fan atmosphere on the Hartwall Arena and raised the notion of "Matchday Experience" to a new level for sports and concert venues. Hartwall extended its fame – from Helsinki and Finland to Saint Petersburg and even further. The local audience got more interested about HC Jokerit and KHL matches.
We are eagerly inviting you to attend Hartwall Arena and to enjoy spectacular shows there!